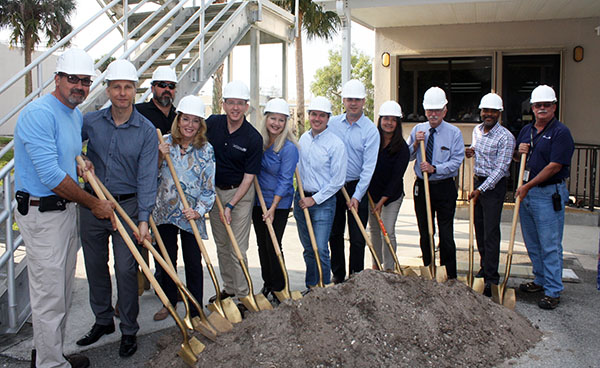 A groundbreaking that has been five years in the planning stages was celebrated Friday, April 26 at Wellington's Wastewater Treatment Plant on Pierson Road to begin the facility's $19 million renovation.
On hand at the ceremony was Mayor Anne Gerwig, along with Vice Mayor Michael Napoleone, council members John McGovern, Michael Drahos and Tanya Siskind, as well as Utilities Director Shannon LaRocque and the staff and engineers who are working on the project.
Before the ceremony, LaRocque told the Town-Crier that the project is important for Wellington's future.
"Today we have the groundbreaking for a very important utility infrastructure and investment project at the water reclamation facility," she said. "This is a $19 million project that will extend the life of this facility another 30 years. It includes an expansion of the facility and significant rehabilitation."
LaRocque noted that the groundbreaking is the culmination of many years of planning.
"This project has been in the planning design phases for approximately five years," she said. "We have had a whole team of professionals, including our internal operations staff, our internal engineers and our external engineering consultants, who worked diligently to bring this project to fruition. It is extremely important to the utility to ensure resilience and excellence in operations. We are very excited to finally make this happen."
The plant treats wastewater from the village's utility area, which includes Wellington, as well as parts of Royal Palm Beach and unincorporated Palm Beach County. It also produces reclaimed water that is used to irrigate public medians and parks.
"This is an excellent water conservation program that we have in the Village of Wellington because of the technology that we employ at this facility," LaRocque explained. "The Peaceful Waters Sanctuary over at Village Park is a wetland. Some of our reclaimed water is sent there to create a wonderful ecological habitat for birds, birders and people to enjoy nature."
LaRocque noted that the Wellington facility has continually been recognized by industry associations for excellence in operations and maintenance.
"We are very proud of that," she said. "Many people ask me what the most important utility in the village is. People assume it is the water plant. Actually, I consider it to be the wastewater plant, because if we were to lose the water plant, people would be inconvenienced. However, if we were to lose the wastewater plant, people would have to move out of Wellington because we would have a public health crisis if you didn't have a sanitary sewer treatment facility."
The ceremony for the groundbreaking took place at the treatment plant. Several village officials addressed the assembly.
"The project that we are here to kick off today is another example of how we are enhancing our community with strategic infrastructure investment," Napoleone said. "But make no mistake; we see it in a broader context. This is an important part of the greater effort to enhance our community and protect our environment."
McGovern is also proud of the utility's efforts.
"It is especially gratifying to know that through the work that we begin here today, we are creating a much-needed, modernized facility that will benefit our entire community by enhancing the reliability and certainty of the important service that is provided by this plant," he said. "We are fulfilling our mission to provide the very best utility service for all of our residents."
Gerwig praised the team behind the project.
"I want to touch on what this project means to our community," she said. "The operators and maintenance personnel who work on this plant are committed. When we got Shannon LaRocque, one of the most recognized professional engineers in our county, to come and to become part of our staff, I think we all high-fived. Having her as part of the team is a huge benefit."
LaRocque has been Wellington's utilities director for the last two years. She has lived in the Wellington area since the 1970s, but now works where she lives. A civil engineer, her career has been groundbreaking being one of the few women to manage utilities.
LaRocque was quick to acknowledge her co-workers and others who have worked on the project.
"Thank you, mayor and council members, for your continued support," she said. "I want to also recognize Village Manager Paul Schofield and his management team, Jim Barnes, Ed De La Vega and Tanya Quickel. We have a significant reinvestment program. They are critical to us moving forward with these large investment programs. I want to acknowledge our staff. We have the best staff in our industry, hands down bar none. This facility is continually recognized for outstanding operations, maintenance and compliance."
In 2018, the Florida Department of Environmental Protection awarded the Domestic Wastewater Plant Operations Excellence Award to Wellington's water reclamation facility. The prestigious industry award served as recognition of Wellington's outstanding treatment plant. It is presented to only one facility in each of the six DEP statewide regions.