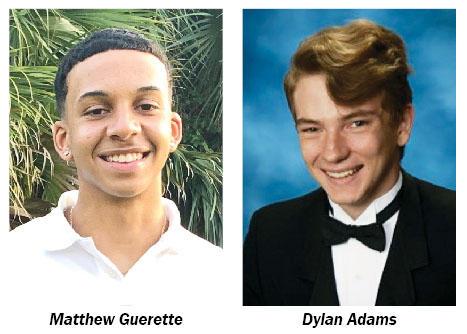 Royal Palm Beach High School's Class of 2019 will graduate on Friday, May 17 at 7 p.m. at the South Florida Fairgrounds Expo Center. Leading the way will be Valedictorian Matthew Guerette and Salutatorian Dylan Adams, both exemplifying perseverance and dedication.
Guerette is on his way to Emory University in Atlanta, thanks to the education he has had at Royal Palm Beach High School, where he is part of the medical sciences academy.
He remembered his surprise at finding out that he would be valedictorian.
"I came in ninth grade to the medical program," Guerette said. "I was getting good grades like my parents asked… So, once I found out I was valedictorian, I kept doing my thing — getting my work done, doing well in classes, doing my extracurricular activities. In ninth and 10th grades, this is what I was focused on. It wasn't something I planned, but it came along with the hard work."
Guerette will study computer science at Emory but sees himself going to graduate school and becoming an orthopedic surgeon. His outlet is music. He formed a music club at Royal Palm Beach High School in his senior year with the help of engineering teacher Robert Krasnicki.
"It's a music production club called Royalty Records," he said. "I basically teach other students how to complete music programming, digital audio, like music production, recording and the recording process. 'Clueless' on SoundCloud is one of our originals. It is under 46Music. I wrote, produced and sang the song."
Guerette noted that he has had some inspiring teachers. One that stands out is his 10th-grade math teacher, Daniella Suarez-Boyd, who was recently honored as the Palm Beach County School District's teacher of the year.
"She inspired me a lot. No matter what, she would put down what she was doing to help us," he said. "She kept the students as her first priority. The main goal was our learning. This was the main goal, to teach us, make us learn so that we could retain it. I really admire this about her."
Other teachers who were inspirations to Guerette throughout his high school days were science teacher Dr. Deborah Fuchs, math teacher Gabriella Haim, Latin teacher Virginia Stroke, health teacher Juan Lizcano, guidance counselors Cindy Rosado and Nikki Lanier, Assistant Principal Neil Hagans and more.
Like Guerette, Adams did not set out to become salutatorian.
"Honestly, I had no intention of becoming salutatorian," he said. "I had straight As my freshman year. When I first got my transcripts, I was ranked number two. Ever since then, I just maintained my grades."
Adams has taken advanced classes at Royal Palm Beach High School and is part of the International Baccalaureate program.
"The IB program is focused on having an open mind, having a global perspective, being balanced with extracurriculars, school work and having a time-caring mind about the world," he explained.
Math teacher Suarez-Boyd was also a major influence on Adams.
"Math really came easy to me in my freshman year. My current math teacher now, Mrs. Boyd, really determined my love for math," he said. "She extended my knowledge into math, which really made me love the courses a whole lot."
In the fall, Adams will be attending the University of South Florida to major in computer science. He is waiting to see how many college credits he has obtained as a high school student. Students often double up on their academics in high school and many take dual-enrollment classes, receiving college credit. Therefore, in college they are ready for advanced and specific courses in their choice of focus.
Adams plans on working on his master's degree and then working at a tech company in the future as a software engineer.
Adams is also an Eagle Scout and helps out younger scouts. He is president of the National Math Honor Society, parliamentarian of the National Honor Society and secretary of the Internet Club. Adams also uses his extracurricular interests to help the community.
He enjoys his downtime with his family. "We have family game nights, cookouts and go out to movies," Adams said.