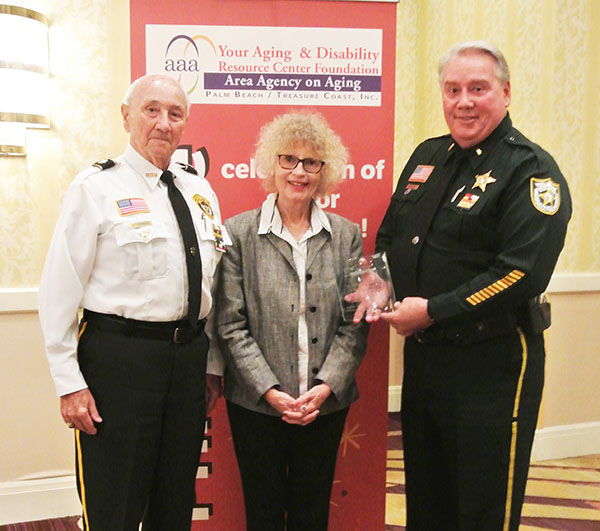 Your Aging & Disability Resource Center, the local Area Agency on Aging organization, honored 197 dynamic senior volunteers from five southeast Florida counties at the 28th Prime Time Celebration at the Palm Beach Gardens Marriott on May 23.
With 320 in attendance, this year's event celebrated the amazing lives of local seniors who help to keep area communities vibrant and alive.
The awards celebrated foster grandparents, guardians ad litem, senior advocates, medical personnel, school volunteers and law enforcement volunteers ages 55 to 92.
Volunteer Lt. Col. William "Bill" Parks of Royal Palm Beach was the recipient of the Palm Beach County Sheriff's Office Law Enforcement Volunteer Award.
Parks was the principal theoretician in editing and recreating the 95-page Volunteer Marine Unit Operations Manual. He worked tirelessly to obtain command staff approval of the manual and worked closely with the PBSO media to complete this valuable and important publication.
He has worked to maintain and increase the number of volunteer marine vessels that patrol the waterways of Palm Beach County. The unit currently patrols lakes, inland waterways and the ocean, thereby assisting the PBSO Marine Unit, Coast Guard and Border Patrol.
Parks is well known for his highly developed ability to think outside the box in creating training tools to enhance the overall effectiveness of PBSO volunteers. Recognizing that the weather conditions in South Florida are not always conducive to training outdoors, he developed a tabletop training scenario for scene management. He also created a series of video presentations focusing on scene management to enhance volunteer training.
PBSO executive staff is continually impressed by Parks' ability to translate his many years of professional work in managing employees to teach and motivate in the most non-threatening environment. He has the extraordinary sensitivity necessary to motivate volunteers to perform at a consistently high level and to instill in them a sense that they can accomplish what they thought was not possible.
This award is the capstone to an enviable career as a volunteer with the PBSO. He has received 16 commendations that have spanned the gamut from Volunteer of the Month, Volunteer of the Year, the Colonel Ned Reynolds Award for Excellence, the Distinguished Service Medal as PBSO Volunteer of the Year and recognition of service Above and Beyond the Call of Duty.