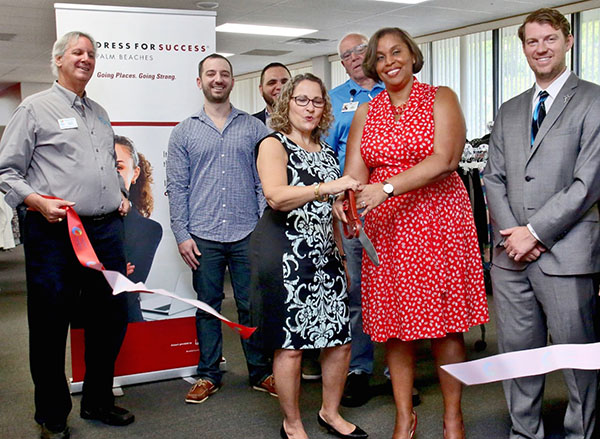 Joi Gordon, global CEO of Dress for Success, hosted a ribbon-cutting ceremony recently that not only officially marked the opening of the new location for the nonprofit's Palm Beaches affiliate, but also recognized the local organization's astounding growth and impact on the community in just under a decade since its founding in April 2010.
At the ceremony, which was arranged by the Chamber of Commerce of the Palm Beaches, Gordon was joined by corporate sponsors, local officials, individual donors, agency partners, volunteers and others from around the area who helped kickoff a daylong series of celebrations at the new Dress for Success Palm Beaches "boutique" at 2459 S. Congress Ave., Suite 204.
Gordon said she's often asked why the Palm Beaches — home to 33 billionaires — would need Dress for Success. "I answer that there is a troubling disparity here with the poverty rate, especially among women, which is our demographic, at 20.9 percent," she said. "So, there absolutely is a need here for all that Dress for Success delivers in helping women to become economically self-sufficient. What we provide, though, goes well beyond clothing. We help women head-to-toe and inside-out, providing intensive job readiness programs, career coaching and mentoring."
In making the move from its former space in Lantana, Dress for Success has tripled its quarters. The interior has the appearance of an exclusive store, with aisles filled with racks of gently worn, business-appropriate clothing, a room dedicated to shoes, handbags and accessories, and private dressing rooms. Equally impressive is the meeting space where the local nonprofit can now host on-site the intensive 10-week job readiness courses it offers that help with self-awareness, resume writing, interviewing skills and how to leverage online job search platforms. Previously, these sessions were held at nearby colleges and other venues.
With all of its key initiatives now consolidated under one roof, the nonprofit is projecting that the number of women it annually provides its free services to will grow significantly. In 2018, it helped nearly 600 obtain an appropriate wardrobe for their job interviews and counseled them in preparation, and additionally "graduated" 60 women from its job readiness courses. Learn more at https://palmbeaches.dressforsuccess.org.