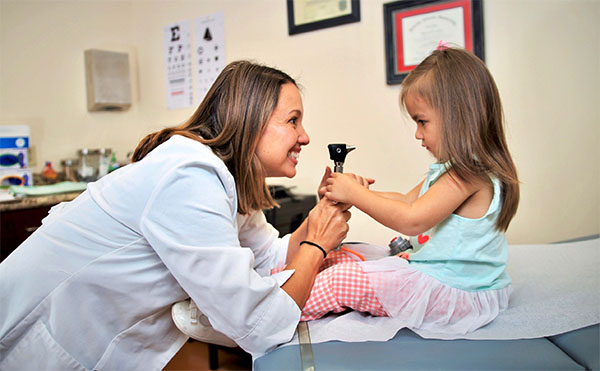 With the world of healthcare ever more confusing, Grace Family Medicine is now open and providing a different option for individuals and families without health insurance or those dealing with high deductibles and co-pays.
Located in the Wellington Plaza at 12785 W. Forest Hill Blvd., Suite 8E, the new office follows an up-and-coming trend across the country called direct primary care (DPC).
"We have a vision of how to deliver primary care," said Carlos Poveda, the administrative manager for Grace Family Medicine. "We have the right skill set. It's a dream that is being realized, and that's because of the drive of my father [Dr. Leon Poveda's belief] of how medicine should be practiced for the benefit of the patient and the benefit of the providers."
The family practice comes with years of experience in healthcare service. Dr. Leon Poveda is a board-certified family physician who has been in practice for 30 years. He works in tandem with his daughter-in-law Jessica Poveda, a nurse practitioner who has more than 15 years of experience in the field.
"Having a health insurance card does not equal access to healthcare," Carlos Poveda said. "There are reports coming out nationally about individuals who are delaying care even though they have insurance because the cost of deductibles and co-pays are a barrier. We don't bill insurance — our monthly membership is what our patients pay. There is no middleman or anything getting in the way of how we should treat you. We work together with our patients to help them achieve their goals."
Another distinction about the DPC model is an emphasis on access to healthcare immediately. The practice uses modern technology and social media as tools to keep families in touch with their doctor. "Moms love this because if their child wakes up with a rash, they can take a picture of it, send it to us and get answers," Carlos Poveda said. "All primary care services and frequent, direct communication with your healthcare provider is available essentially 24/7. No waiting a week or two weeks. We have same day or next day appointments when often new patients at other facilities wait a month. We don't even have a waiting room, because they have direct access."
The DPC model utilizes a monthly payment plan, with tiers based on a patient's age and needs. Grace Family Medicine negotiates on behalf of patients to keep costs low for items such as lab work. The practice also works with a local insurance broker to help families and businesses find the right plan to protect them in the event of a serious need, such as a broken bone or surgery.
"Individuals and families are starting to realize wellness and primary care is for the health of all of us and very important. It's like vegetables, we know they are good for us but don't always buy them. We know that primary care can help prevent chronic illness, so we have a preventative medicine mindset," Carlos Poveda said.
Plans vary, but prices begin as low as $50 a month for individuals, with even lower family rates available for children. Healthcare is available to patients starting at one year of age, and the holistic approach to medicine means patients are treated as people, addressing concerns from diet to diabetes.
"We offer child wellness checks, and my wife [Jessica Poveda] is a certified diabetes educator — she loves that," Carlos Poveda said. "The model allows them to take their time and practice medicine in a non-traditional way. We even test for flu and strep in house so you have answers right away."
Grace Family Medicine is also providing a unique opportunity for small businesses. With the requirement of insurance no longer a federal mandate, small companies can look into a DPC plan for their employees. This can improve retention and satisfaction, keeping the vibrant small business community in Wellington strong.
"We live in Wellington, and this is an investment in our community — that's how we see it," Carlos Poveda said. "Our children are in the school system, and we are involved in several nonprofits. We like to be involved in our community."
For more information about the practice, packages and pricing options, visit www.dpcwellington.com. Grace Family Medicine also encourages potential clients with questions to reach out via social media channels including Facebook and Instagram, call or text them at (561) 331-5155, or e-mail them at welcome@dcpwellington.com.