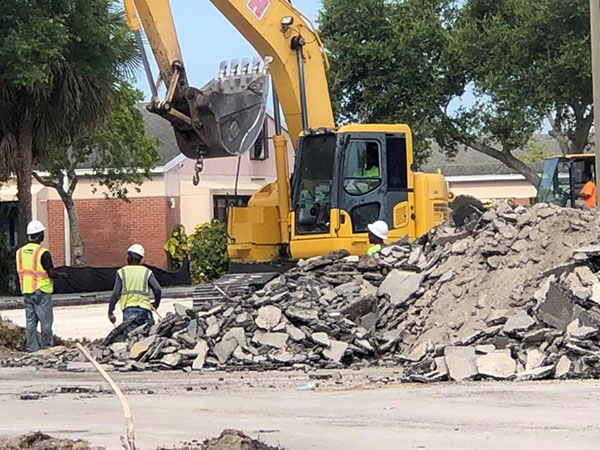 Wellington Landings Middle School is under renovation this summer, getting many needed updates both to the interior and exterior of the building.
The much-needed overhaul is important to the 30-year-old school to keep its infrastructure contemporary. It is part of a several-year process funded by the one-cent sales surtax approved by voters.
According to Principal Blake Bennett, the school is spending a second summer under renovation. Last summer, the school began its renovation process, and this summer, a number of major projects are being finished up.
"We have been having renovations since last year," Bennett told the Town-Crier this week. "Back into 2016, there was a referendum vote, and the voters passed the one-cent sales surtax. The school district is getting half of each penny earned in order to do capital improvements on buildings."
The referendum is in place for 10 years, and the money can be allocated for capital improvements to schools like technology, transportation, intercom/sound systems, bleachers, fencing, interior and exterior repairs, and much more.
"Last summer, they started doing all sorts of different renovations, like new flooring, all the inside walls were painted, the bathrooms were renovated, our cafeteria, our bleachers, our gym were included," Bennett said. "This summer, they are completing the HVAC, including the air conditioning and the air unit handlers. All the rest of the rooms that weren't renovated are getting completed. We are getting new furniture for students and teachers."
There is also much work being done on the school's exterior.
"Our entire front parking lot is being redone," Bennett said. "If you drive by the school right now, you will see that the entire front of the school is ripped up. There will be new lighting in our instructional spaces. There will be new lockers for the students. There will be a track put in our west loop. There will be new electrical wiring. This will help us be able to offer more IT [information technology] opportunities to the students."
Each room is getting fitted with a flat-panel touch screen, she added. This giant computer screen is interactive, and information can be projected onto the monitor.
The extensive work will not delay the return of students in two months. Most renovations will be completed before they return in August. Some renovations will continue but will not interfere with classroom time. "By the end of the summer, the things that will be needed to be able to start school will be completed," Bennett said. "They will continue on renovations, but they will not impact us opening school."
There were assessments done by the school district facilities department that determine what needs to be renovated in each school. Look for the fresh exterior upgrades at Wellington Landings. The paint and gutters will be new. The parking lot will glisten with new pavement. There will be new lockers in the hallways and each classroom will be outfitted with new furniture, paint and floors.
Right now, Wellington Landings is in a temporary location at Wellington High School.
"We were here last summer, and we are here again this summer," Bennett said. "We are in the second week of our course recovery program, so I have students here who are working on anything that they need to complete for the passing of courses. We are working out of the media center at Wellington High School. We have a room set up for new registrations for anyone who needs to register. They can come in on Tuesday from 1 to 4 p.m. and Thursday from 9 a.m. to noon. My secretaries are here, as is my data processor, and I am here. So, we are operating just like we would if we were at Wellington Landings."
Bennett thanked Principal Cara Hayden and the staff at Wellington High School for their assistance.
"Wellington has been extremely kind to us," Bennett said. "Last summer and this summer, they have gone above and beyond making us feel comfortable. From their principal, the principal's secretary, the assistant principal, we feel it is a second home."
The plan at this time is for the staff to go back to Wellington Landings by July 31. The school will have its new teacher orientation on that Wednesday. Then on Aug. 1, there will be the incoming sixth graders' orientation, plus any new students from other grades. The first day of school is set for Aug. 12.