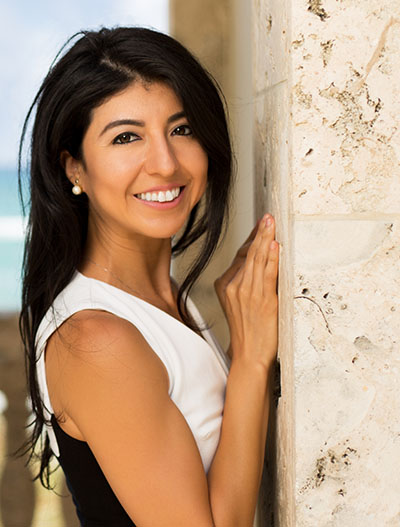 Juliza Kramer was hired this year to help connect the area's local business community to the expansive International Polo Club Palm Beach in Wellington, where the high-goal polo season lasts from January to April, but the rest of the year couples can book weddings, members can utilize the venue and its amenities, and businesses and organizations from across South Florida can make use of the location to hold events.
"I am working at spearheading all business development efforts," Kramer said. "What is really missing at the International Polo Club is a connection to the local community. IPC is connected to big international brands, like Rolex and U.S. Polo Assn. I am here to bridge that gap between the polo club and the local community."
Kramer is a native Floridian who grew up in Palm Beach County. Her parents moved to Wellington 15 years ago from Boca Raton, so she knows the community well.
Now, as the director of business development, she wants to build relationships with businesses, corporations, organizations, clubs, schools and the community to tell them about IPC and the various amenities that are available year-round to the public.
Kramer attended the University of Florida in Gainesville. She majored in telecommunications with a double-minor in communications and Spanish. During school, she interned at Gainesville Television Network, gaining experience in packaging, writing, advertising, meeting the public and conducting interviews.
When she interned at North Florida Regional Medical Center in the marketing department, she put together large-scale events and handled the marketing flyers, brochures, social media and photography. During winter and summer break, she would intern at the Palm Beach County Clerk & Comptroller's Office in the communications department.
Connected to the local community, Kramer sits on local boards like the Leadership Business Council and Young Professionals of the Palm Beach Chamber of Commerce.
Her top priority in her new role is to get IPC better known throughout the South Florida region, well beyond Wellington's tight-knit horse community.
"My biggest priority is getting IPC known in the South Florida area. I encounter people all of the time who say they have lived in South Florida for many years but have never been out to Wellington or IPC," she said. "I want the Wellington community to know that we host events in our space, we have memberships, we have Sunday brunches and we have a social atmosphere that is family friendly. I also want people in the community to know that they can have their daughter's wedding or child's sweet 16 here. I want the community, local businesses and organizations to connect with us."
Services at IPC go far beyond party planning, Kramer noted.
"I don't think people are aware that we have meeting spaces for businesses and organizations," she added. "We would like to host corporate events where they have team-building activities. We have the technology to project information onto the screen. People are not aware of all of the variety of things we offer at IPC all year round."
Adding a polo experience to any event is also another added benefit at IPC.
"We can put together a casual game of polo to get people who are not equestrians to participate and learn the ins and outs of polo," Kramer said. "They experience something about polo. If people are living in Wellington, I want them to know there are options for them here."
Key to this is working to bring Wellington's equestrian and non-equestrian communities closer together.
"I want the local community to know our equestrians and appreciate their talent," Kramer explained. "I want the community to come out and experience this lifestyle and know more about it. It isn't closed off. I want more people to know what we have here, as IPC continues to expand and the sport of polo continues to grow."
Kramer believes that the upcoming season will be a banner year for the polo club.
"In 2020, we plan on having so many local companies out from the community, not just to have fun and spend time with the family, but also to spend time in a great place to network," Kramer said. "This is a great place to meet people and make connections in the local community. My goal is to make sure our tailgates and boxes are full with local businesses and the local community that wants to get engaged. We want to invest back into the community, and this means the world to me. Getting the local community plugged into the business community is my goal."
As a longtime fan of the Wellington community, Kramer hopes that she can contribute to its growth, along with developing business for IPC.
"I love South Florida," Kramer said. "I've grown up in Palm Beach County. To see Wellington flourish and grow is so exciting. If I can bridge the gap between IPC and the local community, to show them our special venue, this will be an accomplishment."
To learn more about IPC and all the venue offers, contact Director of Business Development Juliza Kramer at (561) 972-1189 or jkramer@internationalpoloclub.com.