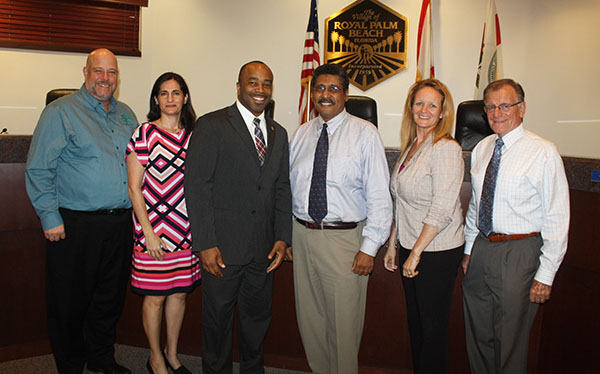 State Sen. Bobby Powell (D-District 30) gave a legislative update to the Royal Palm Beach Village Council on Thursday, June 20, discussing the recent 61-day legislative session, noting some of the legislation that passed and explaining new opportunities that he and his colleagues are working on in Tallahassee.
"For everybody who did come up to Palm Beach County Days, it was amazing, and a great opportunity to meet some of our colleagues who can now put a face on the communities that we are advocating for," Powell said. "They do remember you. It helps when we go back and say, 'This is the Village of Royal Palm Beach. This is one of my areas, and they are active, and I really need your help getting this funding.' They remember that you came to see them."
Mental health is an issue that Powell has been working on.
"We are 49th in the nation as far as mental health funding," Powell said. "We are the third-largest state in the union. This is a problem. We need to take care of our most vulnerable populations. We are all just one incident away from a mental health crisis. I've seen people in my family suffer from mental illness, and many of us have seen people from our families, close relatives and close friends suffer from a mental health crisis. If we fund it, and work toward a solution, or help mitigate some circumstances, what we can do is prevent those issues. We need to advocate for additional funding."
Councilwoman Selena Samios thanked Powell for his work on this issue.
"Thank you for all of your work up in Tallahassee," Samios said. "I appreciate all of the work that you are doing on mental health. Miss Mariluz Cook, who is the current Miss South Florida Fair winner, is going up to Orlando to compete for Miss Florida. Her platform is mental health. So, if she is the title winner of Miss Florida, she plans on working around the state with that as well."
Powell said that much of his job is advocating for projects in his district.
"We had $10.5 million that I was able to work with our different representatives in the house to bring back to the district," Powell said. "Part of that was money in the budget for education, especially the [Max Planck Florida Scientific Fellows Program] at FAU. We had reading programs for Riviera Beach and Mangonia Park."
The legislature awarded funding of $3,250,000 for a recreation center in Belle Glade, and the Town of Loxahatchee Groves was awarded $47,500 for equestrian trails. The Florida Alliance of Boys & Girls Clubs Youth Program will receive $3,652,768, while the Town of Lake Park will receive $29,000 for road improvements. The African-American History Museum & Library was awarded $150,000.
"In agriculture, where I am a major part of that particular committee, we had a $1 million ask but got $700,000 for the Loxahatchee River Preservation Initiative," Powell continued. "We received $300,000 for the Palm Beach Gardens stormwater maintenance repairs. We received $250,000 for the Loggerhead Marinelife Center. We asked for $500,000 for the Royal Palm Beach canal rehabilitation, and we got $500,000. We were able to do very well there for Royal Palm Beach, following up with monies previously for this particular canal system."
Mayor Fred Pinto asked Powell if he expects all the local funding to survive the governor's veto pen.
"Are we beyond the line-item vetoes?" Pinto asked.
"No, not yet," Powell said. "But remember this: I made several calls to the governor and his staff. The governor has indicated that water projects are very important. We spent upward of $680 million this year in terms of restoration of our environment. So, this area of the budget should be very important to our governor. We have a good, all-star team who have been hitting the governor, so we are going to keep our fingers crossed and hopefully ensure that he will not veto this particular area."
While it appears that the Royal Palm Beach project survived the veto pen, the recreation center project in Belle Glade and equestrian trails in Loxahatchee Groves were among the projects vetoed by Gov. Ron DeSantis last Friday, the day after the Royal Palm Beach meeting.
Pinto was grateful for all the help Powell has given the village.
"We would like to say thank you to you and your entire team for that help and support," Pinto said.
"Thank you for making sure that we know what you need," Powell replied. "We have learned really quickly how to get some things done. We are already preparing for next year. So, the minute we leave here today, if you have requests for next year, get with our team and start. The early bird gets the worm."