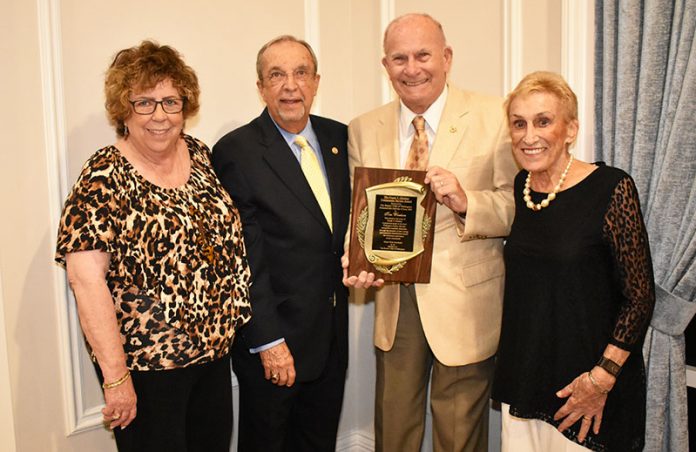 The Rotary Club of Wellington held its 39th annual installation dinner on Saturday, June 22 at the Wanderers Club. At the event, Don Gross was installed as the club's president for 2019-20.
The club also presented PBSO Chief Deputy Mike Gauger and Deputy Ryan Soriano with a check for $20,000 for the purchase of Kevlar protection vests for PBSO police dogs. The money was raised over the past few months through the club's Kevlar for K9s raffle.
Outgoing President Tom Carreras closed out his term by reviewing the many club achievements over the last year, which included record levels of fundraising and the support of more than 15 charitable causes.
Club members Dr. Wes Boughner and Randy Pfeiffer were presented with multi-level sapphire pins to signify they are multiple donors to the Paul Harris Fellowship. The club also presented its prestigious Frank T. Gladney Award to Tom Wenham for his past and present service to the Village of Wellington.
New club officers are: President Don Gross, Vice President Larry Kemp, President-Elect David Berns, Past President Tom Carreras, Secretary Ravi Culbertson, Treasurer Jim O'Neil, Administration Chair Randy Pfeiffer, Membership Chair David Salley, Interact Chair/Sergeant-At-Arms Andrew Burr, Outreach Chair Maggie Zeller and directors-at-large Tom Neumann and Susan Odell. The board was sworn in by Assistant District Governor Evelyn Flores.