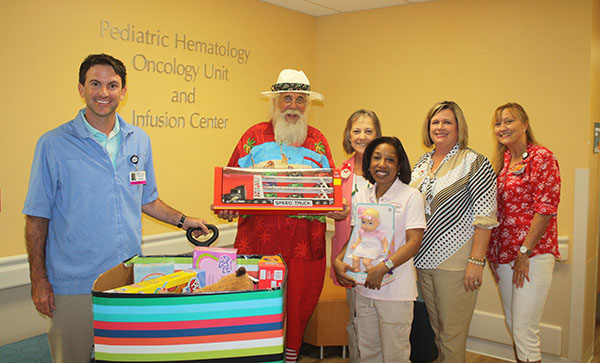 Young patients at the Children's Hospital at Palms West received a special visit from Santa Claus on Saturday, July 19 courtesy of Believe in Santa Foundation President Keith Carson.
Wearing a red Santa outfit, a full beard and hat, Carson brought cheers of joy as the children smiled for a bit of time at the Pediatric Hematology Oncology Unit and Infusion Center, where some of the patients were fighting for their lives.
Carson has been visiting children through his Believe in Santa Foundation since 2013, bringing new toys to children to brighten their day and make their stay in the hospital a bit more tolerable.
After portraying Santa at an event for underprivileged children, Carson found his calling and started the local nonprofit. "I love every minute of it," he said. "I came up with the idea because there are so many children in need."
Santa had three wagons of toys, overseen by volunteers who pulled the wagons through the hallways, interrupting the usual serious business of patient hospital routines. At every room, Michele Armand, child life specialist for the hospital, introduced Santa to the children. When Santa handed over the toy in his hand, the room was all smiles, and the little ones became occupied by their gift at the annual Christmas in July party.
"I help children to cope with being in the hospital by planning activities, supporting them through procedures and making the hospital as normal for them as I can," Armand explained. "I provide an assortment of activities for all ages."
What are the emotions that the children are feeling when they go into the hospital?
"It's a wide range of emotions," Armand said. "Some kids feel lonely because they are missing their friends and their siblings. They are missing that interaction. Many of the children here in the hospital are fortunate, though, to have their parents spend the night with them."
Chief Nursing Officer Sheila Sanders was also on hand to help. "These events are important to the children in order to keep their spirits up," she said. "Kids don't expect to come into the hospital. They are in a foreign place with people they don't know around them. So, anything we can do to lift their spirits, we do."
Volunteer Dan Silverstein was there helping Santa deliver toys. He has been volunteering at the hospital for just over a year. His son, Jack, had his appendix removed at the hospital in 2016.
"It was a scary experience," Silverstein said. "It was the first time he was under anesthesia. He was in a lot of pain. It was an emotional time. We were only here two or three nights, but we saw families here for weeks and months. I just felt that if I could help out in any way, I would like to try."
The hospital is always seeking community support for its youngest patients.
"We love having donations of brand-new toys," Armand said. "When they get to play in the hospital, this makes the experience a lot easier for the children."
Meanwhile, the Believe in Santa Foundation welcomes anyone who wants to host a toy drive.
"We are always looking for people to host toy drives," Carson said. "This is very important, because we do this all year round, not just at Christmas. We especially need toys for teens. They seem to be the hardest to collect for."
Teen presents can be gift cards, sporting equipment, arts and crafts.
People can also make financial contributions to the nonprofit through www.believeinsanta.com.