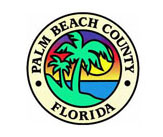 Palm Beach County got shorted in the last state legislative session, paying more to Tallahassee than the county got back, members of the Palm Beach County Commission concluded after their legislative affairs lobbying team made their final report on the disappointing results of the 2019 session on Tuesday, July 23.
Funding for state colleges suffered also, while Florida Atlantic University benefited greatly in comparison. Meanwhile, funding for affordable housing under the Sadowski Fund was raided once again by the legislature, which swept money from the fund to help victims of Hurricane Michael.
Funding for key local priorities was rejected, including money to complete construction of the levee that separates the J.W. Corbett Wildlife Management Area from The Acreage, as well as several requests initiated by local municipalities.
Legislative Affairs Director Rebecca De La Rosa said the legislature's final $91.1 billion budget reflected priorities for victim relief from Hurricane Michael, restoration of voting rights, water quality and Everglades restoration, healthcare benefits, medical marijuana, school choice, school safety and Senate President Bill Galvano's transportation plan.
Palm Beach County's top lobbying issues were affordable housing and homelessness, which received relatively small allotments, compared to other funding by the legislature. Four municipalities received less than $200,000 each toward affordable housing.
"As northwest Florida continued to struggle with the aftermath of Hurricane Michael, housing relief was addressed by appropriating $115 million for two different programs," De La Rosa said. "This is the 12th consecutive year that the William T. Sadowski Trust Fund has been swept to fill gaps in the budget. This year, more than $125 million was diverted from the housing trust fund despite the efforts and support multiple stake holders, including our League of Cities, the Florida Association of Counties and the Housing Coalition, which is made up of 30 interested parties. While Gov. Ron DeSantis and the Senate backed plans to leave affordable housing untouched, the House continued to move forward with a proposal for sweeps."
Sean Pittman with the Pittman Law Group said the total $91.1 billion budget included $1.85 billion toward Hurricane Michael recovery.
"One of the Governor's major priorities was to actually have money going into the reserves this year, so $3.4 billion in reserves is a 2.5 percent increase from the prior year," Pittman said.
A $125 million tax relief package included a seven-day disaster preparedness holiday, a five-day back-to-school sales tax holiday and a provision that school millage must be shared with charter schools.
Gov. Ron DeSantis vetoed $131 million from the budget, including $3.25 million for the Belle Glade Community Center and $250,000 requested to assist low-income individuals and seniors.
"Gov. DeSantis stated that he vetoed projects that could have been handled at the local level," Pittman said, suggesting that DeSantis be invited to Palm Beach County to see first-hand the need for state funding for various projects.
Greg Bernardino said agriculture and natural resources was allocated a record $650 million for various reclamation programs. "It's the highest total that has ever been allocated for Everglades restoration," he said.
Pittman said cultural arts and education received $30.5 billion, with $335 million going to Florida Atlantic University, $65 million to Palm Beach State College and $1.5 billion to the Palm Beach County School District. Palm Beach County received $228,000 for historic preservation and $1.3 million for cultural and museum grants, and $1 million for cultural facilities.
Cesar Fernandez noted the legislature strengthened the texting-while-driving law to be a primary offense rather than a secondary offense, where an officer would not be able to stop a driver solely for texting while driving.
Fernandez added that the legislature preempted local governments' ability to regulate tree trimming and the growing of vegetable gardens on private property.
District 6 Commissioner Melissa McKinlay thanked the lobbying team for securing funding for the Butterfly House rape crisis center located at Wellington Regional Medical Center, which she has been active in supporting.
"Next year, I certainly hope, and I know that we worked hard on it with [lobbyist] Dave Ramba, to get the funding for the Corbett levee," McKinlay said. "There is so much focus on Lake Okeechobee and the Everglades and the restoration projects surrounding that, but that is something that we have to get fixed, so I hope that we can move that forward."
She added that Florida Atlantic University had a hugely successful year, while "our state colleges are getting their butts kicked," McKinlay said. "They are the first line of entry for many families in terms of an affordable college education [or] vocational education, and Palm Beach State College needs a little bit of extra help from our lobby team next year to make sure that they get the same level of funding as Florida Atlantic University. They are all partners."
McKinlay felt the sweeping of Sadowski funds for hurricane relief when there are people in the Glades living in squalor was "absolutely criminal when we have people living in conditions that they are living in right now. My concern is that the governor's hostility toward certain sectors of the agricultural community might distract from the need that we have for dollars to be appropriated in that area."
She reiterated the need to get DeSantis down to Palm Beach County to see the conditions in the Glades, pointing out that former Gov. Rick Scott was not so heavy with the veto pen after the county invited him to tour the area.
"I don't want the Glades to suffer because of politics," McKinlay said.
Commissioner Hal Valeche said it was disappointing to see the lack of funding coming back to Palm Beach County.
"I would really like to understand how much we're sending to the state and how much they're sending back to us," Valeche said. "It's my belief it's just a fraction. Quite frankly, to give some of these cities just $100,000 for all of their affordable housing needs, what could they even do with that? It's a drop in the bucket."