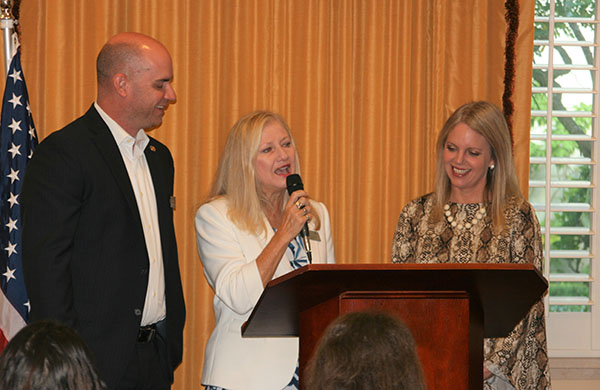 National Senior Citizens Day has been celebrated in the month of August every year since 1988. This year, on Wednesday, Aug. 21, the Addington at Wellington Green honored some of its own residents with help from Wellington Mayor Anne Gerwig, Palm Beach County Commissioner Melissa McKinlay and Wellington Councilman Michael Drahos.
"We want to honor and thank each and every one of our citizens here today because at some point in their life, every one of them have contributed to their communities and society as a whole," Addington Lifestyle Director Dorene Harkness said. "We realize that they've paved the way for many of us, and we have three residents who we are spotlighting because they are great examples."
The three individuals specifically honored at the celebration were World War II veterans George Kramser and Harold Levine, along with Brenda Butscher, an influential woman ahead of her time.
Kramser was born in Austria and came to the United States through Ellis Island. His life after serving in the military was one of entertainment as he performed around the world as a professional ice skater. Harkness shared one of his favorite sayings: "Life's most important lesson is you learn by listening to other people."
Levine was joined by his wife of 77 years, Sylvia. He was stationed at Pearl Harbor while serving in the U.S. Navy and spent time in PT boats because they were small, fast, and used to combat the enemy. Levine also shared how he met a young John F. Kennedy.
Butscher was a healthcare leader, business owner and elected official who was named woman of the year and inducted into the women's hall of fame in her hometown in Maryland. She was a Garrett County commissioner from 1990 to 1994 — the first woman elected to that position.
McKinlay stood before the room and commended the guests for their time and service to both their nation and their community. She spoke of her respect for those who served in the military, noting that both of her grandfathers also served.
Gerwig said that she was honored to be able to attend the event.
"The work that our seniors have done is not overlooked. We value you. We want to serve you. We want to be your partners, and we thank you for being part of the community and for all that you've done and the lives that you've touched," she said.
Drahos quoted Ronald Reagan, the first president to declare National Senior Citizens Day.
"It is a real privilege to serve the community, and it's especially an honor to come out here and recognize you all for Senior Citizens Day," Drahos said. "As Ronald Reagan said, 'You can never grow old so long as you have an interest in the world and you are eager to contribute to it.' That is really what we are all about. It's so important to us that you all continue to contribute, and we continue to get your voice and your contribution to what we are doing in Wellington, now and in the future."
Guests and residents enjoyed refreshments and sharing their experiences for the remainder of the event.
The Addington at Wellington Green is located at 10330 NuVista Avenue in Wellington. It is both an assisted-living facility and a post-acute care center offering therapy and nursing services.
For more info., call (561) 795-3360 or visit www.addingtonwg.com.