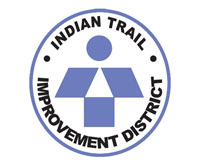 Indian Trail Improvement District Executive Director Burgess Hanson made a presentation on parks and recreation at last week's meeting of the ITID Board of Supervisors, calling for a reorganization and revitalization of the department.
At the board's Wednesday, Aug. 21 meeting, Hanson said he wanted to restore some of the events that occurred in the past and instill new life in the department.
"I do have a lot of background in parks and recreation," said Hanson, who came to the district in June from Deerfield Beach, where he served as city manager. "That's part of the reason that I'm doing this tonight. There is a saying, 'It starts in parks.' Very much like the school system, the parks system is meant to be a benefit — a safe and fun environment for not only children, but even adults."
Hanson said that ITID's staff has ideas on how to improve the programming, but he wants to get public input.
"It's really what the residents want at the end of the day, because they are the end users," he said. "We will be talking about the future of park facilities and amenities. It's something that the residents want to see long term, and really try to restore some of the equestrian events and things of that nature that used to happen in the past."
Part of that will also be determining the level of district involvement with the Acreage Landowners' Association and the Acreage Athletic League.
Hanson added that ITID staff, the legal department and the board should determine what policies must be implemented and/or updated. He noted that ITID has 10 parks on 95 acres, as well as areas outside of the control of the district that are available for residents to use, including Palm Beach County parks and the J.W. Corbett Wildlife Management Area, managed by the Florida Fish & Wildlife Conservation Commission.
"How can we also improve the equestrian trails?" he asked. "Right now, the equestrian trails seem to be somewhat disconnected, they're poorly signed and they're really not maintained to the level that you would expect. The biggest issue for me, and what I've been trying to figure out these past few weeks being here working with parks staff and with staff in general, is how do we connect with the residents and find out what they want and what they expect to see?"
Hanson added that the current approval system for special events is not consistent and needs improvement.
"That's not fair to the individuals renting or to the organizations, whether they're for-profit or not-for-profit, using our facilities," he said. "Then we have some older equipment, and the biggest thing that surprised me is, do we really want portable potties in our parking lot. Should we look at something a little different that's permanent?"
He pointed out that the portable toilet trailer at Bob Hoefl Park does its job, but it is the dominant feature there.
"That's sitting right in front of your park," Hanson said. "It's not inconspicuous, so we should look at how you want to at least camouflage that."
He added that there are cracked surfaces on many of the basketball and tennis courts, and the skateboard park is adjacent to ITID's maintenance area where heavy equipment comes and goes.
"I know it is scheduled to be moved in one of the phases with Acreage Community Park," he noted.
Hanson also encouraged working with Palm Beach County Parks & Recreation to use more of its facilities.
"I don't think we're focused enough on what can we do with Palm Beach County to partner with them to take advantage of what they have here. While the Acreage Pines preserve is very limited, it's not as open, the Royal Palm Beach preserve is. What can we do with Palm Beach County to make that more active for our residents here?" he asked.
Hanson suggested starting a capital projects list and budgeting for park improvements that the board and the community want to see, whether it is for playgrounds or court resurfacing.
"What happens in a lot of jurisdictions is minor park improvements get pushed off because of budgeting, but eventually, that catches up with us. We're seeing this with this upcoming fiscal year, where we cut part of the budget for the Sycamore Park playground improvements. We really want to try to plan outward and make sure we set aside the appropriate funds for that," he said.
Another issue seems to be with water fountains, Hanson noted, since ITID does not have a potable water system.
"It might not be financially feasible to put county water to all the parks, but there are other means that we can use to put in water fountains with proper filtration, even if it is off of wells," he said.
Another area of concern is the dog park at Downers Park. "Do we really need a dog park, or is it actually helping residents who live in Westlake or other areas where they don't have big yards on acre-and-a-quarter lots like we do?" he asked.
Another item for consideration is possible expansion of parks into adjacent lands that might be available, whether for park expansion or for water retention.
"I think one of the most important things that we should look at and hopefully budget for would be putting canopy covers for shade over playgrounds," Hanson said. "When it's 100 degrees or more, are kids really going to be going on slides or playing on hot equipment?"
He also suggested creating themes for playgrounds that make sense, such as a horse theme at the Nicole Hornstein Equestrian Park, or a pirate ship at the future splash pad at Acreage Community Park.
"It's not about just the district paying for it, it's also about trying to find other types of entities or philanthropists or grants to pay for these types of venues," Hanson said.
Currently, the focus of the 12-person parks department is primarily on maintenance.
"What we're finding is they are lacking some specialized training, and that's something that I will be working with the human resources manager to address immediately," Hanson said, explaining that recreation staff lacks education in areas such as dragging of the horse arenas or tree trimming.
While sports programming is done by the Acreage Athletic League, there is currently no formal recreation programming.
"That is something that the board is going to have to consider, and that doesn't mean, necessarily, that you have to add staff," Hanson said. "Maybe what we can do is repurpose or reallocate staffing that we have currently within the department."
He would like to see more programming done through the Acreage Landowners' Association.
"We used to have limited events through the ALA, and, hopefully, we can do more of those, because right now there are no planned events with them that I'm aware of," Hanson said. "We don't have any types of equestrian partnerships for programming or events. We have to do a better job of marketing what we currently have and finding out what they would like to see."