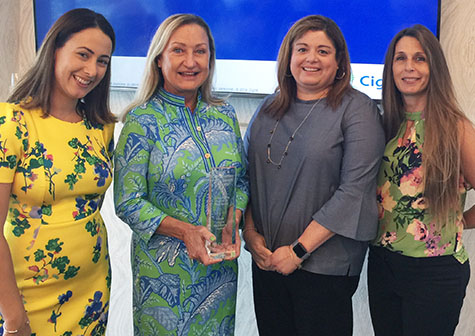 The Palm Beach County Clerk & Comptroller's Office was recently recognized by one of the country's top health insurers as a leader in workplace wellness for providing programs that improve the overall well-being of its nearly 700 employees.
Cigna, a national health services company, named the office as a recipient of its 2019 Outstanding Culture of Well-Being Award during a July 24 ceremony in Fort Lauderdale.
The Clerk & Comptroller's Office workplace wellness program focuses on the overall well-being of its team, from cash incentives that reward employees for making healthy choices to one-on-one meetings with financial planners to encourage fiscal wellness.
"It is an honor to be recognized for providing a premier wellness program that encourages and educates employees about the importance of investing in themselves," Clerk & Comptroller Sharon R. Bock said. "I am extremely proud of our efforts to ensure that our employees have the support and resources they need to make healthy choices for themselves and their family members."
Each year, Cigna recognizes organizations that are committed to improving the health and well-being of employees through workplace programs.
The Clerk & Comptroller's Office was one of three South Florida organizations to receive this year's top award. Other recipients include the City of Coconut Creek in Broward County and Ocean Reef Club in Key Largo.
This marks the second time in as many months that Bock's office has been recognized for its continued commitment to improving the physical, emotional and financial health of its employees. In May, the office earned the second place spot on the South Florida Business Journal's healthiest employer list for 2019.
"As a certified public accountant, I believe that helping our employees achieve financial wellness is key to improving their overall well-being," Chief Operating Officer Shannon R. Chessman said. "By emphasizing financial health as part of our broader wellness initiative, we help ensure that our employees have the quality of life they need for a successful future."
The Clerk & Comptroller's Office has a long-established tradition of offering employees a comprehensive wellness program that focuses on their total health. The program features a variety of wellness opportunities, including lunch & learn workshops, lifestyle challenges, training events and more.
For more information about the Clerk's award-winning wellness program, visit www.mypalmbeachclerk.com.