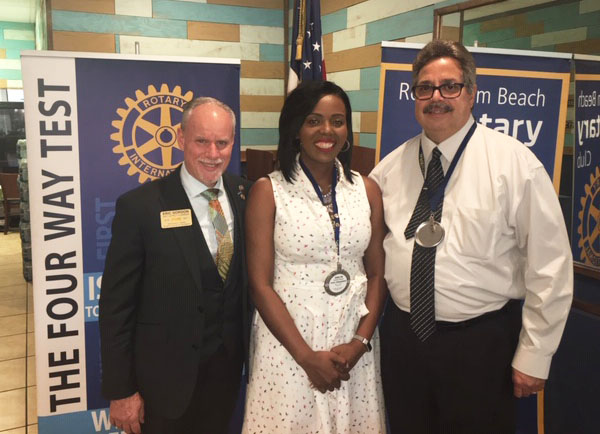 The Rotary Club of Royal Palm Beach has entered the fall months with a robust schedule of meeting activities.
On Sept. 5, at the weekly meeting, local entrepreneur Steven Gazzillo, owner of 3D Baby Bump in West Palm Beach, spoke to the group about his business and some new concepts he is working on. Gazzillo is also the chief operating officer of Personal Health Concepts in Port Saint Lucie. Gazzillo and his family are former Royal Palm Beach residents who now reside in Loxahatchee.
The following week, local Rotary Past President Evelyn Flores, who is now the assistant district governor, delivered a powerful address on the many programs and activities that the more than 1,000,000 Rotary members worldwide are currently pursuing. She congratulated the Royal Palm Beach club on its many endeavors and urged the membership to redouble their efforts to improve the world, one member at a time.
In the next few weeks, the Royal Palm Beach Rotary is expected to announce the individual or group selected to receive the upcoming annual Rotary Tribute honors. The Rotary Tribute dinners began in 2016, when the late Royal Palm Beach Mayor Matty Mattioli was honored upon his retirement. The 2017 event honored Victoria and Jess Santamaria. In 2018, the honor went to Palm Beach County Sheriff's Office Chief Deputy Mike Gauger in honor of his almost 50 years as a law enforcement official. In 2019, the schools of Royal Palm Beach were honored.