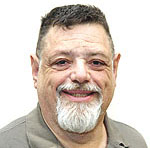 'I' ON CULTURE
There's something about hurricanes that brings on thoughts of home repair. Even with a barely missed storm, we think of all our home's problems. Some elements need it and others get away without damage. Unfortunately, for some of us there are lots of companies that do a far better job of collecting our money than actually fixing things.
Of course, that goes on all the time. I have a neighbor who has had three "new" compressors for his air conditioner in the past eight months. When his old one broke down, he went shopping, and a company offered a "really good deal," so he took it. A month after it went in, it broke down and the company took a compressor right out of its carton and replaced it. Three months later, the new one went down. Another compressor came out of a carton, but he was charged labor costs. Then that one went down, and now there's a legal case about costs.
I also heard about a roofer who went around giving great deals for a few days, collected upfront fees to "pay for supplies" — and then promptly declared bankruptcy.
The good news is there are some really honest companies. Followers of this column may remember that a couple of months ago, I wrote about the good companies that worked on my bathroom renovation. I should have knocked on wood. Soon afterward, my wife woke me in the middle of the night to tell me we had a puddle in the middle of our bathroom. At 9:02 the next morning, I called J&G Carpentry (561-333-7704), the main contractor, about the problem. At 9:40 a.m., they had a plumber in the house who found a leak in one of the pipes.
Unfortunately, the water had leaked all over the floor in our master bedroom. So, J&G called in Entrusted (561-966-0765), a mitigation company. We had a whole crew of people coming in over the next days as their special equipment dried things out. There were a lot of different people, most of whom enjoyed my calling their company "encrusted" (although the boss did not). But their experts noticed that things were not drying as fast as they should. At that point, John Salicco, the big boss at J&G, showed up along with an old-time plumber who spotted a pinhole leak in a pipe.
John looked at me and said, "We don't know for certain if we did the damage through the work or if the pipe just wore out. This is not a new house." I braced for a fight. Then he said the magic words, "That doesn't matter. We'll take responsibly and make everything right." I had been having trouble sleeping the previous nights. Now I could relax.
John looked at the warped flooring. "The technical word we in the business have for your laminate," he said, "is manure." (He actually used a four-letter old Anglo-Saxon version of that word.) He told us that he would try to match the flooring. But two days later, he called and said that would be impossible and that we would need a whole new floor. He told us that if we wanted better flooring, his company would pay the one dollar a square foot the original would have cost, and we could pay the difference. Or we could stay with flooring at that price, and it would be free.
We went to Home Depot and soon found wonderful flooring that was indeed more expensive, but as my wife pointed out, it would cost us less than if we were on our own. Angela, my angel of mercy at J&G, ordered the wood and arranged for its delivery several days before it was put down so it could adjust to the house's ambient temperature.
Mike Almonte and his charming wife Diana from Almonte Restoration (772-360-0099) were the flooring sub-contractors brought in by J&G. They worked steadily for hours ripping up the old floor and laying down the new one. Mike was on his hands and knees for hours, maneuvering the wood, and Diana wielded a mean saw as she cut pieces to fit exactly. Even better, they were charming and went out of their way to get things exactly right. The floor came out beautifully. They also did a couple of minor non-flooring things.
So, thank you all, and I know who I will be seeing for fixing any storm damage if ever I need it. An honest person is hard to find. So we need to hold on to all of you!