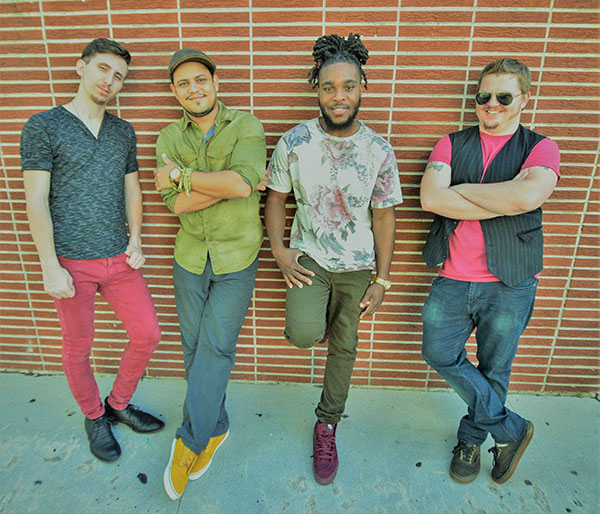 The Rogue Theory Band was in town from Nashville this month and performed at the Village Music Store & Café in Wellington. South Florida local Harry Rogue, who plays violin and sings, founded the band in 2012 and was glad to make a stop home on his South Florida tour.
Rogue returned to his West Palm Beach roots, where in Wellington he taught violin at Village Music. Suzuki trained, he has been playing the violin since the age of three with private instruction along the way. He attended the Dreyfoos School of the Arts and juggled an education in performing arts and theater into his college years.
At the University of Central Florida in Orlando, Rogue studied theater and public relations, but in between built work performing in New York and Europe.
"I worked for Disney while I was in school," he recalled. "I did a Broadway show when I was in college."
He was mentored by Ben Vereen and Gregory Hines and other classic Broadway greats like John Kander of Kander and Ebb. Rogue can tap dance, play piano and sing.
"I got to meet a lot of really great people through Disney," Rogue said. "I would work for Disney during school because they are in Orlando. From high school into college, there were outside things happening during the summers. School was really something I had to get done, but in the summers, I was always active in entertainment."
Rogue participated in an Ann Reinking theatre project. He completed a workshop with the TV show Arrested Development, which added to his experience in the arts.
But having a band with his own sound was etching in as he approached his career direction. Music was where he wanted to spend his time, instead of performing in theater shows.
At the end of the tour in Europe, Rogue made a decision to build a repertoire of his own songs and form a band.
"I have always played in a band," Rogue said. "I have been writing songs and composing music all my life. I wanted to put my all into one thing. It had to do with exploring the original songs I had been writing. I didn't explore music enough creatively."
Rogue played his acoustic violin everywhere, but when he developed a love for flex pedals, he started playing electric after that.
"I never really intended on violin or playing in a band being my ultimate goal," he said. "I really played with as many people as possible. I played a lot of open jams."
The last seven years, he has been building his own projects. Moving to Nashville was a step to ensure that his sound would find a place to grow and increase exposure.
"For the last seven years, I have been focused on writing and playing music and producing," Rogue said. "We have found a lot of success doing that."
Nashville was the place Rogue was already going to showcase the band and write. But two years ago, he moved there.
"Nashville's New York City for music," Rogue said. "I always felt like I wanted to explore it, to be there for at least a couple of years and dive into it. I wanted to grow and learn. Nashville is an interesting town. If you are an actor, you go to LA. If you're a musician, you should definitely spend some time in Nashville."
As a musician, he loves working in the studio while in Nashville.
"There is a calling for me to produce the kind of music I have in the back of my head," Rogue said. "There are things I have been writing for years, trying to orchestrate them, and create an album."
Rogue wants to build a way that musicians in Florida and musicians in Nashville can play with each other. He wants to bring Florida artists to Nashville to perform a show and bring Nashville musicians to South Florida to perform.
"My ultimate goal is to build a bridge between Nashville and South Florida," he explained. "There are many similarities in the music; it's not just country but rock and funk. There is a lot of talent in South Florida that doesn't get out of Florida."
As he works on that goal, he continues to express himself creatively.
"I believe in the arts; it's like my religion. People need a form to express themselves, being able to connect and communicate with people. Being able to see an influence, whether it be a monologue or a dance piece. I have always been involved with as many things as possible."
Rogue Theory is a live performance band, playing private and public shows in Nashville, the Caribbean and at venues across South Florida. They have been building a cosmopolitan fan base. The sound is a unique mix of music with a tight ensemble.
"We are like family," Rogue said. "We communicate through music."
The regular setup to the band is Harry Rogue on violin, Johnny Frasca on guitar, Johnny Hayes playing bass and Garrett Kealer on Drums.
The sound is funk, rock and jam, according to Rogue. According to fans, it is a band you should catch whenever they are in Wellington and South Florida. Look for their new album to be released soon.
To learn more about Rogue Theory Band and upcoming shows, visit www.aroguetheory.com.