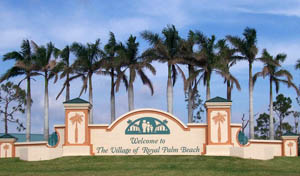 The Royal Palm Beach Recreation Advisory Board met Monday, Sept. 24, where they were brought up to date on the progress of ongoing projects funded by the one-cent sales surtax approved by county voters in 2016 and the many village programs in the works for the month of October.
Village Engineer Chris Marsh gave a detailed presentation on the ongoing projects funded by money generated by the sales surtax. Each municipality receiving sales surtax money must have an oversight board, and Royal Palm Beach assigned that task to the Recreation Advisory Board.
Marsh first spoke about access improvements to Royal Palm Beach Commons Park.
"What we are looking to do is purchase land to create better non-vehicular access to the park. This will be for bike and pedestrian access," Marsh said. "The park is centrally located in the village. So, the goal is to connect the community using Commons Park, and with events like the Fourth of July, to encourage people to use other methods of transportation than driving there with their car."
There is also a plan in place to build a new Royal Palm Beach Village Hall.
"The current project is to build a new Village Hall and then demolish the existing building," Marsh said. "Staff can stay in the building and then transition over. The new building will also serve as our EOC [emergency operations center]. Right now, we have to move the village facilities and have to shut down village services to make that transition. That will be another advantage of the new building."
Other major projects include resurfacing pathways at Todd A. Robiner Park and the addition of a kayak launch there, the construction of new all-access playgrounds at Commons Park, canal system dredging and a road resurfacing program scheduled for 2022.
Another major project coming up is the renovation and expansion of the Royal Palm Beach Recreation Center. "We are adding a new gym, new offices, new restrooms and a kitchen," he said. "It's hot here during the summer, so having air-conditioned recreation space is a plus."
Parks & Recreation Director Lou Recchio stressed the importance of the expansion. Currently, there are more programs than space, and the expansion would allow the village to discontinue its use of Crestwood Middle School's gym for regular programs.
"The whole idea is to have a wing separate for senior programs," Recchio said. "The lobby will be centralized, and that's why this whole thing came up. We decided to keep senior programs at the rec center."
In total, the sales surtax list contains 20 projects in the works over the next five years.
Assistant Parks & Recreation Director Mike Mikolaichik then gave a presentation highlighting programs during the month of October. "I'm going to limit it to October because we are very busy," he said. "If we go beyond that, we'll be here all night."
Mikolaichik noted that upgrades are underway that will allow the village to relaunch its successful early childhood program at the Recreation Center.
"We found out after several years of success that the Department of Health requires you to be a childcare licensed facility," he said. "So, we had to do some renovations. We added a fire-rated door, a door with a magnetic card reader, additional smoke alarms and an outdoor play area."
The hope is to get approval so the program can be back up and running before the end of the year.
Mikolaichik also announced that registration is currently open for the Sunday adult basketball league and the youth basketball programs for grades K through 8. The senior-focused Young at Heart Club is also ready for a busy year. "Last year, we had about 395 members, so we are hoping to surpass that number," he said.
The first Young at Heart luncheon is set for Oct. 4 at the Royal Palm Beach Cultural Center with a "pirates" theme. A jukebox bingo social is scheduled for Oct. 23 from 5 to 7:30 p.m. at the Recreation Center, where participants identify era music on bingo cards. On Oct. 30, the group travels to the Maltz Jupiter Theater for a performance of Dracula, followed by dinner at the Waterway Café.
Other senior programs include free technology workshops on the first Tuesday of each month at the Recreation Center from 3:30 to 4:30 p.m. and a senior lunch and learn program at the Cultural Center.
"Starting Monday, Oct. 7, we will be a meal site breakfast program facility at the Recreation Center. It's a program put on by the county, and it's free to seniors," Mikolaichik said. "The plan is to have the breakfast, have some activities in between and then also have the lunch."
A Halloween party is scheduled for seniors on Oct. 31 at the Recreation Center from noon to 3 p.m. The cost is $3, and lunch is provided.
A food truck expo and a movie night at Commons Park is planned for Friday, Oct. 11 at 7:30 p.m., featuring a screening of the Halloween favorite Hocus Pocus.
"We have a new home and day for our green market. It is set to begin on Saturday, Oct. 19 at Village Hall from 9 a.m. to 1 p.m.," Mikolaichik said. "Those will be held on Saturdays now. We believe that there is more visibility, and we think Saturdays will be a better day."
The first ever Rockin' Fall Festival will take place Friday. Oct. 25 and Saturday, Oct. 26. This combination of Rocktoberfest and the Fall Festival is a new way to merge the fun of both events. Friday evening's celebration will be an adult-oriented Rocktoberfest featuring live rock entertainment, craft beers, food trucks and an adult costume contest from 5 to 10 p.m.
"On Oct. 26, we are going to turn it over and have more of a family-oriented Fall Festival event," Mikolaichik said. "There'll be a kids' fun zone, pumpkin patch, a petting zoo, arts and crafts, pumpkin carving contest, trunk-or-treating, hayrides, a costume contest and more."
The village's first ever haunted house, presented by Catskills Haunts, will run at Commons Park from Oct. 25 through Oct. 30, from 5 to 11 p.m. The cost for the haunted house is $10 per person. The 3,000-square-foot complex involves live actors, strobe lighting and animatronics.
In other business, the Recreation Advisory Board unanimously approved the retention of contracts with the village's youth sports providers and also put into place an automatic renewal of the contracts to streamline the process in the future.
During the meeting, Board Member Denis Seibert voiced concerns over the lighting at a small pavilion located at Homeplace Park.
"This time of year, it's so dark, and there are teens there standing in the dark," he said. "It gets better when the time changes, and I think that pavilion with a light would be a safer place. There used to be one there. That's the only reason why I'm bringing it up. I think it is something to be looked into."