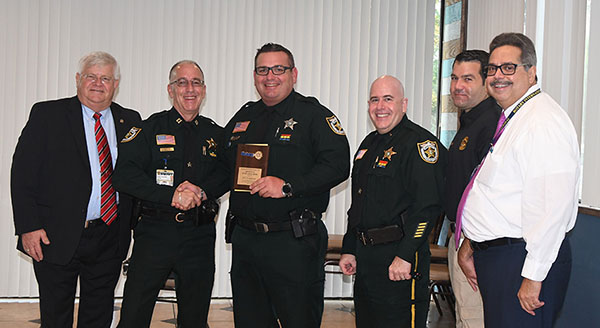 When businessman Steve Gazzillo was a recent guest speaker at the Rotary Club of Royal Palm Beach, he was impressed by what he saw at the meeting and decided to become a member. He was sponsored for membership by Dan Splain and hit the ground running, attending the Rotary Leadership Institute earlier this month in Port Saint Lucie. Another new member, Michael Fehribach, was inducted into membership at the meeting on Thursday, Oct. 17 by Assistant Rotary District Gov. Evelyn Flores.
In addition to the induction of new members, attorney Steve Lutz, who specializes in elder law, gave a highly informative presentation of issues regarding older people in society. His discussion complemented the presentation the club received a week earlier from Det. Gigi Scantlan of the Palm Beach County Sheriff's Office. Scantlan gave a comprehensive presentation on financial and cyber electronic crime. The topics covered included identity theft, mail and parcel theft, data theft from ATM/card readers and telephone scams. She also covered e-mail scams that are being used to fleece the elderly and others, including romance scams, work-at-home scams and offers of easy credit. Scantlan encouraged anyone who thinks they may be a victim of cybercrime or electronic crime to contact the PBSO.
In other business, the Rotary Club of Royal Palm Beach presented its deputy of the quarter honors to PBSO Det. Derrick Gentilcore. He was honored by Rotary President Dan Morales, PBSO Chief Deputy Michael Gauger, Capt. Ulrich Naujoks, Lt. Michael Ferrante and Sgt. Christopher Johnson.
In other news, the Royal Palm Beach Rotary Club presented a $3,500 check to the Be Like Brit Foundation for the construction of a home for homeless people in Haiti. The check was presented to Be Like Brit Florida State Director Chloe Rits.
On Saturday, Nov. 2, the Rotary Club of Royal Palm Beach will sponsor a Shred Fest at the Palms West Charter School (12031 Southern Blvd.) from 9 to 11 a.m. Bring your box of paper to be shredded, and it will be reduced to confetti for a contribution of $5 per box. All funds raised will benefit Royal Palm Beach Rotary scholarships and charities.