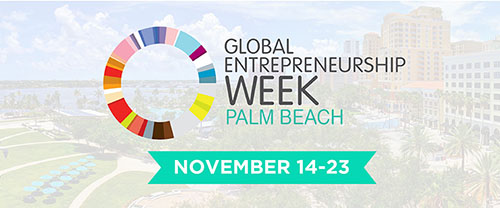 Global Entrepreneurship Week, a celebration of innovators who dream big and launch startups that bring ideas to life, kicked off in Palm Beach County on Thursday, Nov. 14 and runs through Saturday, Nov. 23.
Each November, GEW reaches millions of people of all ages and backgrounds through local, national and global events and activities. From large-scale startup competitions and workshops to small, community discussions, GEW hosts thousands of events in 160 countries to inspire millions to engage in entrepreneurial activity.
"Global Entrepreneurship Week Palm Beach brings together thousands in our community to celebrate the next generation of small business and startup founders," said Joe Russo, CEO of Palm Beach Tech. "The very existence of the many groups organizing this is proof that our entrepreneurial ecosystem is growing stronger than ever."
This will be the sixth annual Global Entrepreneurship Week for Palm Beach County, originally organized by Nicholas Mohnacky and Chris Callahan in 2013.
"GEW is an essential celebration of creativity in any city because it's the only time of year that entrepreneurs can count on municipalities and business communities to come together and support economic development," bNotes founder and CEO Nicholas Mohnacky said.
More than a dozen entrepreneur support organizations are coming together to host seven events from West Palm Beach to Boca Raton that is slated to bring together 1,000-plus people.
The week started off Thursday, Nov. 14 with the BDB Entrepreneur Luncheon celebrating local startups.
Creative Mornings Palm Beach at the Flamingo House (4160 N.W. 1st Ave., Suite 16, Boca Raton) follows Friday, Nov. 15 at 8 a.m. This is a gathering designed to inspire. Attendees are invited to come hungry and prepared to be uplifted while connecting with a diverse community of creatives from throughout the county and around the world.
On Tuesday, Nov. 19, Junior Achievement launch lessons will occur at local high schools from 10 a.m. to 3 p.m. to teach students about business basics and provide educational experiences that are built around the theme of entrepreneurship.
On Wednesday, Nov. 20 there will be a meetup of tech professionals, enthusiasts and stakeholders hosted by the Palm Beach Tech Association at PATHOS from 6 to 8 p.m. in the Comeau Building (319 Clematis Street, Suite 110, West Palm Beach). Entitled "Rethinking How Startups Find Talent," this meetup will focus on upskilling versus reskilling, understanding Accelerated Tech Education, how companies attract and retain tech talent, and the future of HR.
Entrepreneurs in Paradise Celebrating GEW is set for Thursday, Nov. 21 from 5:30 to 8 p.m. at BRiC, the Boca Raton Innovation Campus (4920 Conference Way North, 5000 Building, Boca Raton). There will be exhibits open to the public, live entertainment, the Startup Grind Palm Beach Pitch Competition and an after party at Kapow Noodle Bar in Mizner Park.
Hosted by the FAU Adams Center for Entrepreneurship, Startup Grind Palm Beach and Shrimp Tank with a featured podcast, the session includes hot local brands like FitFoodFresh, Two Degrees, Spicy Wear, Get Fit Academy, Wizard Creations and more.
A free day of coworking follows on Friday, Nov. 22 at 1909, Flamingo House and VentureX.
Global Entrepreneurship Week concludes Saturday, Nov 23 with the 1909fest at Subculture Alley (509 Clematis Street, West Palm Beach) from 5 to 11 p.m. with an after party to be announced. Hosted by 1909, this event celebrates emerging businesses, music and talent in Palm Beach County. Attendees can enjoy local musical talent, connect with others who are passionate about helping the community and watch the top six teams graduating from the 1909 Accelerator courses pitch ideas to the community to win cash and prizes.
Registration may be required for certain Global Entrepreneurship Week events. For more info., visit www.genglobal.org/events.