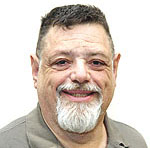 'I' ON CULTURE
I was pleasantly surprised by Last Christmas. It looked like a sappy Christmas story based on the trailers and early reviews. But when we went to the theater, the audience had a great time — and I did as well. It is a really cute, different sort of romance if you set your sights not all that high. Much of it has to do with a really good cast and the beauty found in parts of London we generally never see on film or TV.
Kate (Emilia Clarke) is a woebegone young woman in London, always making stupid life choices. She sleeps around, almost always with the wrong men, she drinks too much and is estranged from her family. One major example: her ringtone for her mother (Emma Thompson) is the song "She Drives Me Crazy." And she never answers those calls. She sleeps in spare rooms and couches at her friends' places until she inevitably messes up, and they toss her out. She works at a shop that sells Christmas items all year long, dressed as an elf. Her boss, who calls herself Santa (Michelle Yeoh), is constantly frustrated by Kate's clear lack of interest.
Her life changes when charming Thomas (Henry Golding) turns up. She constantly runs into him, and he steers her away from her worst impulses. Instead of drinking, she walks around and talks. He shows her places in her neighborhood she had never seen. And he insists that she is far better than she believes. He slips her into an ice staking ring at night, and she learns enough to be able to audition for a singing job. She had often auditioned and was always turned down, generally rudely. But after being with Tom, she is treated better. He even volunteers at a homeless shelter. After a false start or two, she begins to work there singing in front of the place to raise money. And then come a few big twists, which you're sure to enjoy.
The story is a bit over the top. It reminds me in some ways of Dickens' A Christmas Carol. However, Clarke's version of Ebenezer Scrooge does more damage to herself than to others. It is a tale of her learning to love herself despite numerous mistakes. She, without help from a 12-step group, learns to take responsibility for her actions.
The cast is exceptionally good. Thompson, who also was one of the screenwriters, is excellent as Kate's dominating Yugoslavian mother. There is even a bit of talk in "Yugoslavian." The film never bothers with the fact that there were many languages and ethnicities within that country, which broke apart under the strain. Yeoh is very good as the severe manager who becomes a combination mentor and friend despite herself. She is also funny as she falls in love with a man whose specialty is selling sauerkraut (Peter Mygind) whose name she cannot pronounce but loves it when she calls him "boy." Golding is fine, a charming leading man. He uses his good looks well. He is, of course, the ideal person for Kate in many ways.
But the film really belongs to Clarke. For those of you who only know her as Daenerys from Game of Thrones, you will discover that she is an extraordinarily gifted comic actress. Even wandering as a bedraggled elf, she is completely adorable. She has a smile that lights up the screen. Even when messing up, you want to forgive her, making her acceptance despite her frustrating ways completely understandable. There are some actresses who can act well in these kind of films. Clarke not only does that but totally charms us. We really want her to succeed. I also want to see her in more comedies. She has the touch.
Unfortunately, the twists and turns are a bit too obvious. The writers (Thompson and Byrony Kimmings) have to essentially hide a few key facts to try to keep things at least somewhat surprising. But veteran director Paul Feig keeps things moving along so when the reveals do happen, they almost seem natural.
I enjoyed the film. It is one of those where critics are more ambivalent than audiences. It will never win awards for excellence, but audiences will walk away charmed. Should you see it? Well, why not? If the weather is not great or TV not really tempting (as it seldom is), this is a charming way to spend a few hours.