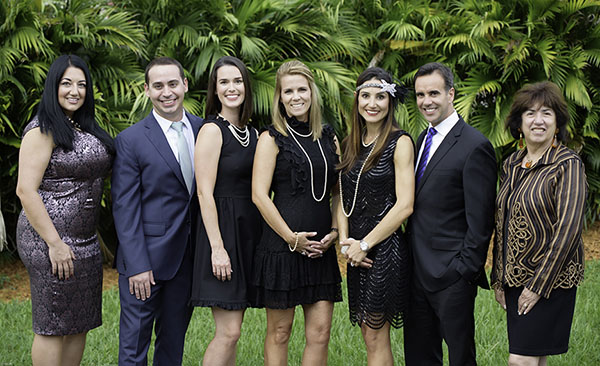 The Neil S. Hirsch Family Boys & Girls Club will celebrate 32 years of its largest fundraiser at the annual Wellington Dinner Dance set for Friday, Jan. 10, 2020 at 6:30 p.m. at the Wycliffe Golf & Country Club.
This year's dinner dance co-chairs include Georgina Bloomberg, Joshua and Consuelo DeTillio, Hillary Dobbs, Dr. Richard and Julia Giroux, and Chris and Charlene Ramos. Honorary chairs are Dr. Edward and Maria Becker, Julie Khanna, and John and Julie Kime. Committee members include Jennifer Black, Susan Ferraro, Nicolette Goldfarb, Dr. Colette Brown Graham, Heidi Harland, Kimberly Leland, Jennifer Martinez, Kila Mistry, Dr. Daxa Patel, Angie Payne, Kayla Roderman, Jessica Rose, Kathryn Walton and Tawny Wolf.
"It is a pleasure and duty to help bring a bigger and brighter future to our local youth. Join us for an evening celebrating the Roaring Twenties and help support the facilities and programs that greatly impact the children of Wellington and Palm Beach County," Charlene Ramos said.
The event is always one of the organization's most successful fundraisers.
"Each dedicated chair and committee member brings something extraordinary to the table. They are instrumental in achieving our goal of enhancing the lives of youth," said Jaene Miranda, president and CEO of the Boys & Girls Clubs of Palm Beach County. "We are so grateful for their time and dedication to our mission."
Proceeds will benefit the Neil S. Hirsch Family Boys & Girls Club, one of 13 Boys & Girls Clubs in Palm Beach County. The Boys & Girls Clubs provide services during non-school hours, as well as summer camp opportunities, to more than 9,300 boys and girls from ages 6 to 18 throughout the county. The clubs emphasize educational, vocational, social, recreational, health, leadership and character-building skills in a positive and safe atmosphere. Through quality programs, the club experience gives children the guidance they need to make a healthy transition from childhood to young adulthood.
Sponsorships and tickets are available. For more information, contact Christine Martin at (561) 683-3287 or cmartin@bgcpbc.org. For details about the Boys & Girls Clubs of Palm Beach County, visit www.bgcpbc.org.