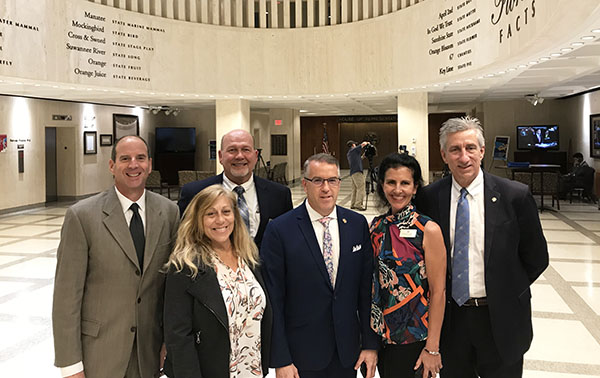 Representatives from the Town of Loxahatchee Groves and the Indian Trail Improvement District had full agendas of meetings with state officials during Palm Beach County Days in Tallahassee on Tuesday, Jan. 13 and Wednesday, Jan. 14, hoping to bring back money that will help both local governments with transportation and drainage projects.
Representatives from ITID included President Betty Argue, Supervisor Joni Martin, Supervisor Tim Sayre and ITID Executive Director Burgess Hanson.
"We've met with many senators and representatives on our initiatives this year, and we're receiving positive feedback," ITID President Betty Argue told the Town-Crier on Wednesday evening. "There's no way of knowing for sure until it goes through the process, but we had a lot of meetings, and so far, so good."
Those initiatives include $400,000 to stabilize the M-O Canal outfall that separates The Acreage from the J.W. Corbett Wildlife Management Area. The second is a charter amendment to give the district the ability to do a feasibility study on incorporation.
ITID representatives also lobbied to get State Road 7 added back to the Palm Beach County Transportation Planning Agency's long-range plan, which agency board members removed in a 9-8 vote last month.
ITID representatives had more meetings scheduled Thursday with State Sen. Gayle Harrell (R-District 25) and Florida Department of Transportation Secretary Kevin Thibault.
Argue said the trip was well organized, and all meetings scheduled were kept, which included full schedules on Monday afternoon, Tuesday and Wednesday.
"We're getting very good questions and very good feedback," she said. "A lot of people are very surprised that Indian Trail has been around since 1957 and we're as large as we are and are not incorporated."
Argue said everyone she has talked to so far supports the connection of SR 7 to Northlake Blvd. "I don't know if the FDOT has a way of pushing it forward other than what they're currently doing," she said.
ITID has a community meeting scheduled for Tuesday, Feb. 11 from 7 to 9 p.m. at Seminole Ridge High School to get feedback from residents on their reaction to SR 7 being removed from the long-range plan.
"That will have representatives from Palm Beach County, the TPA and FDOT there," Argue said. "We have to generate support from the community first for State Road 7 going through."
The issue is also likely to come up at the next meeting of the Western Communities Council, an agency that has long supported the SR 7 extension, on Monday, Jan. 27. The next TPA meeting is set for Thursday, Feb. 20 at the agency's new offices in downtown West Palm Beach, where County Commissioner Melissa McKinlay is expected to make a motion to put SR 7 back on the planning map.
Loxahatchee Groves legislative liaison Mary McNicholas said she and other town representatives met in close to 30-minute intervals with state officials on Tuesday and Wednesday. The town's delegation included Mayor Robert Shorr, Councilwoman Lisa El-Ramey, Councilwoman Phillis Maniglia and legislative liaison Geoff Sluggett
"Every kind of possible encounter, that's what we tried to do," McNicholas told the Town-Crier on Wednesday. "We've been tag-teaming every possible representative we can, mostly outside of our delegation, so that we can focus specifically on appropriations."
She said they have talked with representatives with the Department of Agriculture and the Department of Transportation, as well as water officials. They also met with legislators on key committees about the town's requested appropriations.
"One has to do with the canal rehabilitation, and the next two are both North B Road improvements and South D Road improvements," McNicholas said. "The last one is the North Road equestrian/multiuse trail, which went through both houses last year but was vetoed by the governor."
She said they met extensively with State Rep. Matt Willhite (D-District 86) and State Sen. Bobby Powell (D-District 30), but also made every effort to talk to Republican representatives who control both houses and the executive branch, trying to drive home how much the town has invested in projects over the past year, such as North B Road, over $420,000, and South D Road, over $110,000.
All of the town requests are for matching funds: $550,000 for the canal rehab, $1,166,888 for North B Road improvements that includes paving, $768,863 for South D Road that also includes paving as well as guardrails, and $47,500 for the North Road multiuse trail.
"We really want to show commitment because there's some big asks here," McNicholas said. "D Road is a major connector to State Road 80 and through the town, and it also is a major connector to the Department of Agriculture's Division of Forestry office."
She said that Palm Beach County Days has been a great cooperative effort with county representatives, Palm Beach State College, Florida Atlantic University, ITID and Palm Beach County Fire-Rescue.
"We're all trying to collaborate, and we're all trying to help each other bring dollars back to our western communities area, because we're not all fighting for the same funding," McNicholas said.