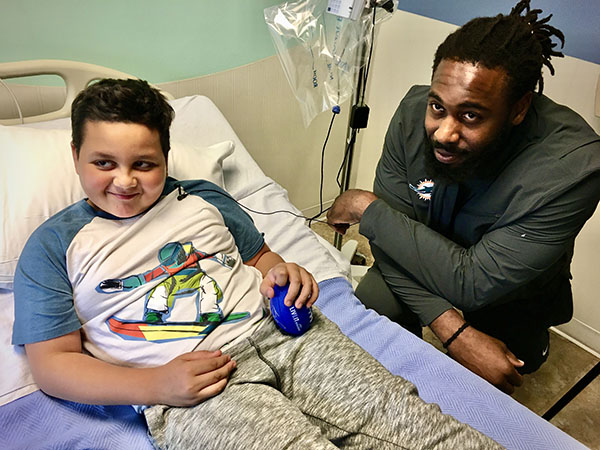 Judging by his sweatpants, baseball T-shirt and gray crew socks, you might think 9-year-old Johan Antigua was simply cutting school Monday, Jan. 27. But rather than at a desk in an elementary school classroom, Antigua sat on a neat but impersonal hospital bed awaiting his 84th round of chemotherapy.
This is a weekly practice for the young leukemia fighter, who spends almost every Monday receiving treatment at the Children's Hospital at Palms West.
The National Football League players crowding his room, however, were a little more out of the ordinary.
With the Super Bowl set to take place in Miami this weekend, the Palm Beach County Sports Commission is hosting a variety of football-themed events, such as a football camp, a concert night and a food truck night, all leading up to Sunday's big game.
Children battling cancer, however, are often confined to hospitals or their own homes in an effort to avoid unnecessary attacks on their compromised immune systems. So, the sports commission decided to bring the fun to them.
"Right now, I don't let him go [anywhere] — just to the house and the hospital," said Jessica Torres, Antigua's mother. "So, it's something different for him."
Palms West pediatric oncologist Dr. Melissa Singer noted that there is about an 85 percent cure rate for many childhood cancers. That being said, none of the patients are without their hardships, which is why this visit was, according to Singer, so important.
"These kids — unfortunately, a lot of their time is spent getting needles poked in their ports, and getting blood drawn, and getting chemotherapy that doesn't make them feel good," Singer said. "It's so nice that these players are meeting them and giving time to them, because it's a very hard thing — for even the patient's parents and the whole family — to go through."
The NFL visitors included Super Bowl XLIII MVP Santonio Holmes and the Miami Dolphins' Steven Parker and Clive Walford.
While his room was only one of the stops along their two-hour visit, the men took their time in
order to encourage Antigua to keep up the hard work.
"Just have faith," Walford, a Dolphins tight end, said to the young man. "Put all your faith in God, and whatever you're going through, you can overcome it; you've just got to believe it."
Walford said he wanted to keep his message short and brief, not trying to convert his listeners but rather point them toward where he has found help in his own life.
"I don't want to try to persuade you to believe in what I believe," Walford said. "I'm just letting you know that this is what I believe in, and this is what helped me, and this is how I made it so far: by putting all my faith in God."
Antigua also got a dose of fame when he — and everybody else in the room — realized he made it on the front page of last week's Town-Crier.
As one of the Cancer Heroes recognized as part of the Polo for a Purpose fundraiser last week at the International Polo Club Palm Beach, Antigua can be seen front and center, smiling and trophy toting between polo players Ashley Bush and Brandon Phillips.
"He's already a superstar!" one of the NFL players exclaimed.
"Congratulations, man!" another said.
Quiet and humble, the young man took it all in stride.
"He doesn't want to be here. He wants to be at school. He wants to be home with his brothers," Torres said. "And [with the athletes coming] here, he feels like he's important."
Such visits do wonders for patient morale. "I think anything special that's brought to these kids is really important. It makes them feel noticed and recognized," Singer said. "It's very hard for anyone — even an adult — to go through what they're doing. So, anything that's kind of special for them really means a lot to them; anything they get the privilege of doing, they're so grateful for it."
Likewise, Parker left the hospital with a smile on his face, grateful he could be there for some children in need.
"I love coming to do events like these because you have children who are going through pain, and they just need somebody to pick them up," Parker said. "They need inspiration. They need to just know that they've got people behind them who actually care."
While the 24-year-old said he was blessed to meet with all of the kids, the one who stuck in his mind the most was a young man Parker said the players helped comfort before he went in for surgery.
"It's not really about money or fame or anything like that," Parker said. "Honestly, the best thing that we can do with our platform is come back and inspire people. I like to use my platform for things like this — to come back and actually put a smile on a face."
Johan Antigua is set to finish his chemotherapy treatments in October, capping his rounds at 120. To follow his journey, you can check out his Instagram at johan_strong25.