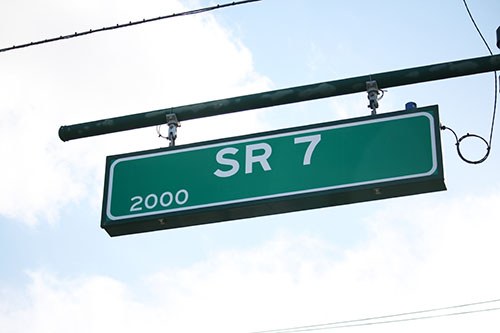 Members of the Western Communities Council spent most of a meeting Monday, Jan. 27 discussing what to do in response to the Palm Beach Transportation Planning Agency's recent 9-8 vote to remove the State Road 7 extension to Northlake Blvd. from its long-range transportation plan.
The Western Communities Council, which is made of representatives from several local governments, has long supported the SR 7 extension, and its members were surprised by the Dec. 12 TPA vote, which will be up for reconsideration on Feb. 20.
The proposed SR 7 route follows a decades-old right of way along the east side of West Palm Beach's Ibis Golf & Country Club. West Palm Beach has opposed the route on environmental grounds, although a longstanding condition of approval for Ibis and other West Palm Beach developments calls for the building of the road.
Wellington Councilman John McGovern introduced TPA Executive Director Nick Uhren, asking him what he anticipates will happen at the Feb. 20 meeting regarding SR 7.
"There's a lot going on relative to State Road 7 that is of great concern to the Western Communities Council, its members [and] its comprising residents," McGovern said.
Uhren explained that five of the county's seven commissioners are on the TPA board, along with 15 elected officials from the county's largest cities, with two members from West Palm Beach and two from Boca Raton, as well as one Port of Palm Beach commissioner. This governing board endorses the spending of state and federal transportation funds.
"The TPA doesn't have the authority to decide what the county does with county gas taxes or with county road impact fees," he said. "Those decisions are recommended by county staff and endorsed by the county commission separate from anything that happens at the TPA."
Uhren explained that the proposed SR 7 project was to be funded with a combination of state and federal gas taxes and no county funds, although the county funded the portion of SR 7 from Okeechobee Blvd. to 60th Street North that has been completed.
"For a project to be built with federal or state dollars in Palm Beach County, it needs to be in the TPA's long-range transportation plan," he said. "The State Road 7 project, both the widening of the existing county-constructed roadway from Okeechobee to 60th, and the construction of a new divided roadway from 60th to Northlake that would go east along the M Canal, turn along the east edge of Ibis and go north to Northlake Blvd., were intended to be funded with federal and state gas taxes in fiscal year 2022. They have been included in the TPA long-range plan… since the first long-range plan was adopted."
Uhren said that prior to the TPA vote in December, the governing board, aside from the West Palm Beach members, has been largely in support of the SR 7 extension.
"We had an unusual vote as far as the history of the TPA goes," he said. "There was a motion to remove those two projects from the long-range transportation plan. It was seconded, and that vote passed by a count of 9 to 8. Later in the meeting, we had a request from one of our TPA board members to bring that back as a stand-alone action at the Feb. 20 board meeting."
Because of that request, Uhren does have a planned agenda item to present an amendment to the long-range plan that would allow the governing board to put the SR 7 projects back in the long-range plan.
Uhren added that after the December meeting, he was approached by one member who told him he did not mean to vote for removal of SR 7. He said the next TPA meeting is set for Thursday, Feb. 20 at 9 a.m. at the new TPA office at 301 Datura Street in West Palm Beach.
The four TPA board members who were not present at the December meeting were county commissioners Mary Lou Berger, Robert Weinroth and Greg Weiss, who left the meeting early, and Belle Glade Mayor Robert Wilson. He said there will be an opportunity for public input at the Feb. 20 meeting, although the facility is limited to about 115 people. Public input is also enabled at the TPA web site at www.palmbeachtpa.org/lrtp.
Royal Palm Beach Mayor Fred Pinto, who sits on the TPA board, said he was shocked at the vote removing SR 7 from the long-range plan. "For 20 years, I have been dealing with this issue myself on a personal level," Pinto said. "Throughout all that time, the only opposition we ever heard from was West Palm Beach."
Pinto explained that there are several developments along the West Palm Beach water catchment area that were approved by that city.
"They are, in fact, the ones that contaminated it and [were] cited for that," he said. "There was a written agreement that as a condition of approval for those three developments, they would also agree to State Road 7 being extended up to Northlake."
Pinto added that at the December TPA meeting, the topic of the SR 7 extension being removed from the long-range plan had not been advertised, but a motion was introduced at the spur of the moment.
Pinto said that he believes that the vote removing the SR 7 extension from the long-range plan reflected a longstanding bias toward the coastal cities and against the western communities.
"I'm not suggesting that was what was behind this, but it just reminded me of those days where the funding was based on geographical areas," he said.
The Western Communities Council also heard a presentation from Palm Beach County Engineer David Ricks on future transportation plans for the western communities, which includes several significant improvements, less the SR 7 extension plan and other road segments that have been deleted through the years.
"Some of these segments have been taken off the map, but as more and more roads happen in the western area, some of these segments need to be looked at again and maybe be added back on the map," Ricks said. "If it's not on the map, we can't add any capital to improve those segments."
Western communities roadwork deletions through the years include: E Road/140th Avenue from Southern Blvd. to Northlake Blvd., 40th Street North from E Road to Royal Palm Beach Blvd., Folsom Road from Okeechobee Blvd. to Crestwood Blvd., Royal Palm Beach Blvd. from Orange Blvd. to Northlake Blvd., State Road 7 from Northlake Blvd. to the Martin County line, Sansbury's Way from Okeechobee Blvd. to Roebuck Road, and Donald Ross Road from the Beeline Highway to Jog Road.
"The big subject at hand is State Road 7, which should have been halfway under construction by now but [instead] is now on hold completely," he said. "Hopefully there will be another conversation before the TPA board to take another look at that."
He noted that during the recent Palm Beach County Days in Tallahassee, members of county staff met with Florida Secretary of Transportation Kevin Thibault.
"He definitely is very supportive of the road itself," he said. "There are some issues to work through, but he definitely is very supportive at the state level for this project."
Ricks noted that a total of $46,890,000 has been budgeted for Area 3 in the western communities over the next five years, coming from gas taxes, impact fees, proportionate share and infrastructure sales taxes.
McGovern asked Ricks if there is anything the Western Communities Council can do to help keep local projects on the planning map or to get deleted projects back on, and Ricks said SR 7 is still considered by the county to be an important part of the road plan.
"State Road 7, from a county standpoint, is a key project, and we need all the help we can get to keep pushing that project forward," Ricks said.
Indian Trail Improvement District Executive Director Burgess Hanson noted that ITID will hold a public input meeting at Seminole Ridge High School on Tuesday, Feb. 11 at 7 p.m. that will be attended by District 6 County Commissioner Melissa McKinlay, as well as county and FDOT officials.
"It's strictly about getting State Road 7 back on the long-range plan," Hanson said. "Everyone is invited."