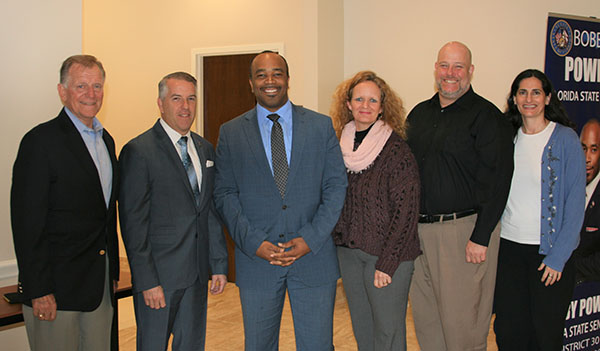 State Sen. Bobby Powell (D-District 30) and State Rep. Matt Willhite (D-District 86) held a town hall meeting on Wednesday, Jan. 8 at the Royal Palm Beach Cultural Center to discuss the upcoming legislative session that gets underway next week in Tallahassee.
Powell and Willhite gave a joint presentation, sharing information about bills they are championing, committees they serve on and a snapshot of the expected major topics to be discussed in the state capital over the next two months.
Willhite spoke first about bills he has introduced in Tallahassee. He expanded on the importance of several in detail, including House Bill 861, a Bottled Water Excise Tax.
"Nestle came into the Gainesville area and bought a water plant. They are pulling water out of our springs to sell bottled water. The problem is, Florida only has so many springs," Willhite said. "In Miami-Dade County, Pepsi and Coca-Cola pay 12.5 cents a gallon for water. Right now, Nestle will pay $115 a year for their permit. We are just trying to level the playing field."
One issue that the two officials did not agree on was the proposal for term limits on school board members. Willhite presented the bill that would put a 12-year term limit on county school board officials, citing that other elected officials have term limits, and they should as well. Powell was not so sure.
"I don't agree with the idea of school board members having terms limits. I am elected, and realize being elected is a hard process," Powell said. "There are people who should not be in office, and you get rid of them by voting them out of office."
Powell went on to explain his opinion that term limits takes power away from the people.
Willhite also expressed concerns over public records and a loophole in the Sunshine Law that allowed individuals to gain, and then sell, personal information. This leads to issues from excessive solicitation calls to identity theft.
"Your information should be protected. You trust the state with your information," he said. "We are there to protect you, not make you more vulnerable."
Other bills Willhite mentioned include improving communications between school districts and first responders, requesting full funding of programs to recognize and treat veterans at risk for suicide, putting in place greater repercussions for offenses against firefighters, and increased support for Alzheimer's disease and dementia-related disorders.
Powell then highlighted some bills he introduced, including a 1,500-foot distance requirement from public spaces, including beaches and schools, for individuals carrying firearms. He is also working toward a program designed to fund the care of retired law enforcement dogs and another to add sickle-cell anemia to the list of qualifying conditions to receive medical marijuana. Powell said that by the end of the session, he expects to present anywhere from 18 to 26 bills.
Both agreed that several major issues are expected to come up during the 2020 legislative session, including an increase in new teachers' salaries. The governor's proposed rate of $47,500 a year for new teachers is a welcome change, they said, but it does not take into account teachers already in the system with years of experience who also deserve more money.
Water quality is also expected to be a hot topic, with a possible ban on the practice of fracking and a response to the incidents of red tide and blue-green algae plaguing Florida waters.
"If we don't have access to clean and safe waters, we can't live," Powell said. "It's time we started talking about the environment."
Willhite agreed, adding that he hopes Gov. Ron DeSantis puts a focus on the environment.
"Our previous governor was more about jobs. My colleagues on both sides said we have allowed that to go on longer than we should have," Willhite said. "There was just talk about the blue-green algae, and hopefully we will do something about it now."
The restoration of voting rights to some felons, the expansion of medical marijuana and the $91.4 billion state budget are also important, but an emphasis was placed on the upcoming census. Based on the growth in population, Powell said Florida must put a focus on making sure there is a full count of all residents.
"Florida will end up picking up two more congressional seats. However, the numbers are so close, that we could end up with three additional congressional seats here in the State of Florida. We could end up with 30 congressional members. That is so important," Powell said.
Powell serves on the Finance and Tax Committee, the Ethics and Elections Committee and the Appropriations Committee. He is also the vice chair of the Appropriations Subcommittee on Agriculture, Environment and General Government, and serves as alternating chair on the Joint Committee on Public Counsel Oversight.
Willhite serves on the Rules Committee and the Commerce Committee, the Business & Professionals Subcommittee and the Local Administration Subcommittee, where he is the ranking member. He is also proud to be the chair of the Florida Veterans and Military Families Caucus.
Both officials spoke proudly of their support staff and encouraged their constituents to reach out with questions. Willhite's office can be reached at (561) 791-4071, while Powell's office can be reached at (561) 650-6880.