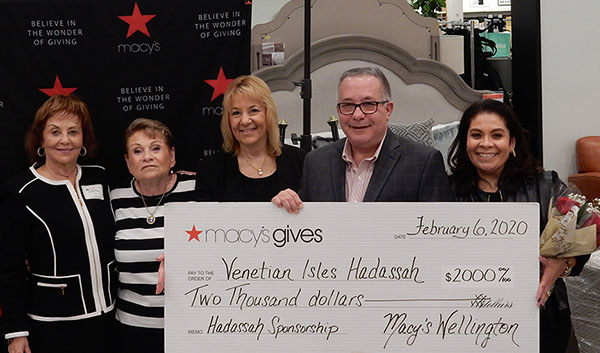 Hadassah Florida Atlantic and Macy's at the Mall at Wellington Green celebrated women's health with 220 women in the uniquely transformed setting of the store's furniture department on Thursday, Feb. 6.
Welcomed by Hadassah Florida Atlantic President Sheila Glass and Event Chair Jill Davis, attendees listened as Hadassah National Vice President Clara Gillman spoke about gender equity in medical research and the steps that Hadassah is taking to change gender disparities in medicine.
The event also included a silent auction and pick-a-prize drawings, as well as a delicious luncheon. Macy's representatives presented Hadassah with a generous grant donation for future Health & Wellness Advocacy Workshops. Jenny Cesar, a member of Congresswoman Lois Frankel's staff surprised the group with a Congressional Minute Presentation and Hadassah Day Proclamation.
To learn more about Hadassah, visit www.hadassah.org or contact Hadassah Florida Atlantic at (877) 949-1818 or florida@hadassah.org.