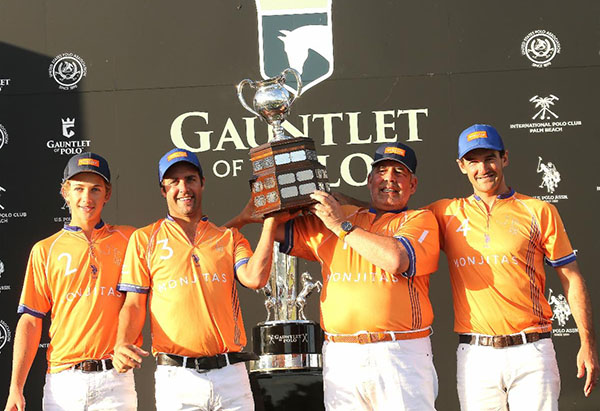 A thrilling conclusion to the first leg in the Gauntlet of Polo came down to the final seconds with Las Monjitas crowned the C.V. Whitney Cup champion, defeating La Indiana 11-10 on U.S. Polo Assn. Field 1 at the International Polo Club Palm Beach in front of a packed house on Sunday, Feb. 23.
The two remaining undefeated teams produced an evenly matched final that saw a defensive style in the first half, only to provide spectators with an electric offensive display over the final two chukkers. Combining for 11 goals in the final two chukkers, little separated Las Monjitas and La Indiana as they fought for the $125,000 prize, but it was Francisco Elizalde who proved to be the difference, scoring 8 goals to hold off a late push from La Indiana.
Held off the scoreboard in the opening chukker, La Indiana conceded a penalty 3 in the opening minute to Mackenzie Weisz for the only goal of the chukker, with both teams missing shot opportunities. The strong defensive effort from Las Monjitas carried into the second chukker, thwarting multiple La Indiana attacks, while an impressive neckshot from Elizalde extended his team's lead to 2-0. Unable to get uncontested runs to goal, La Indiana began to shoot from distance, receiving a goal each from Jeff Hall and Polito Pieres to quickly tie the score at 2-2. Late foul trouble to end the half for Las Monjitas gave La Indiana multiple penalty 4 attempts, resulting in Pieres converting both attempts for La Indiana's first lead of the game. Responding with a safety conversion, Elizalde pushed Las Monjitas back into a 4-4 tie, leaving the outcome to be decided in the second half.
The pace continued when the teams returned, with neither able to pull away and generate consistent opportunities at goal. Trading field goals for their respective teams in the fourth chukker, Hall and Elizalde kept their teams deadlocked at 5-5 in what was destined to be a close finish. In what was the decisive chukker of the match, Las Monjitas strung together a run of four unanswered goals from the duo of Elizalde and David Stirling to hold a commanding four-goal lead. Two missed penalty attempts left La Indiana facing a large deficit, but Pieres scored his fourth goal of the game to keep La Indiana within reach, trailing by three.
Two goals in quick succession from Elizalde to begin the final chukker seemed to seal the victory for Las Monjitas, holding a five-goal lead with little time remaining, but La Indiana was unwilling to quit, finding an offensive spark with all four players attacking goal. After receiving a penalty 1, Santiago Gomez Romero and Pieres scored back-to-back goals to finish a four-goal run, but Las Monjitas was able to survive the late challenge to capture the exciting 11-10 victory and the first leg of the Gauntlet of Polo. Elizalde was awarded MVP honors, as well as receiving Best Playing Pony for Dolfina Molinera.
Earlier in the day, the next leg of the Gauntlet, the USPA Gold Cup, began with a match between Equuleus and Patagones. Behind 8-goalers Tomas Garcia del Rio and Santiago Toccalino, Patagones overwhelmed Equuleus to build a large lead and never trailed in the convincing 13-7 victory.
The USPA Gold Cup continues this weekend. Learn more at www.internationalpoloclub.com.