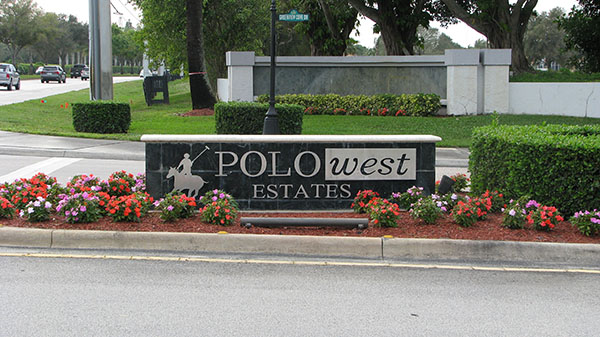 Dr. Scott Swerdlin is an affable individual with a sterling reputation in Wellington earned over years of service to the community, and he has a dream.
His veterinary practice still thrives, but today, he has a new focus — redeveloping the long-closed 150-acre Polo West golf course property, and that has a bevy of nearby residents teed off and wanting to stay the course.
"I want to do something with the last large area of land in Wellington to develop, where 10 to 15 years from now I can look at what we did as a big team and feel proud," said Swerdlin in an interview with the Town-Crier.
Swerdlin sees the land as a defunct a golf course whose time has "come and gone." Popularity in golf is waning, he said, noting a number of reports that have reached similar conclusions.
"It will never be golf again," said Swerdlin, who envisions residences instead, in a variety of sizes and density, with perhaps even equestrian estates on the property.
Polo West is located along the west side of South Shore Blvd. between Big Blue Trace and Greenview Shores Blvd. The last plan to redevelop the land was put forward by former owner Glenn Straub two years ago. It was shot down by the Wellington Village Council after an outcry against the proposal by residents, particularly those in the Polo West Estates community that surrounds the ill-fated course.
Swerdlin is the new owner of the property, although several critics still see Straub in control behind the scenes.
While many residents are said to be opposed to Swerdlin's project, few were willing to talk on the record. For example, the Polo West Estates HOA controls the ingress and egress of the road to the golf course property. Skeptical of previous redevelopment plans, no members of the HOA would speak on the record under advice from their attorney.
Eventually, resident Angela Lacy said she would talk about the project and ask a friend or two to speak as well. By the time the meeting occurred the next day, 10 self-selected, concerned residents, including former Wellington Mayor Tom Wenham and his wife Regis, gathered ready to share their vision. Many walked to the immaculate residence along the closed course that is subject to sporadic upkeep.
"Look out back. That is what I wanted, that is what I bought," said Lacy, pointing to a mowed fairway.
She said that her property is a great place for kids and dogs with a great view. "I don't want to be on the water," Lacy said.
The consensus of the group was that they wanted a golf course, and nothing else would make them happy. They plan to organize and fight to keep one of the last large undeveloped pieces of property in central Wellington just that.
"We want it back the way it was," said Pat Evans, who said that the community supported a golf course at nine holes. "They [the previous owners] never gave it a try, never ran it as an 18-hole golf course."
"We can live with it like it is. We have everything we need," Winston Handwerker added.
While Swerdlin has purchased the property, he is said to have a limited time period to use his resources, which includes his reputation, to get something approved for the land.
Snazzy mounted renderings are circulating with Swerdlin's suggested uses at his area meetings touted as 2020 Vision Committees seeking neighbors' input. "We will have as many meetings as it takes to make the neighbors comfortable," he said.
Swerdlin said he is planning on working with a team from the University of Florida to maintain the uniqueness of the Village of Wellington.
He said the land would be developed in an eco-sustainable way with 20 percent of the land restored to a natural ecosystem and habitat with "pocket parks and cypress hammocks, water retention and multi-use trails."
"Corridors will be created that are good in case of hurricanes, with land corridors that are good for animals, and the water quality will be improved," Swerdlin continued. "We have the opportunity to put in exactly what we want — not lots or row houses. Everyone will have a nice visual in their backyard."
Swerdlin said that many attending his meetings liked the idea of equestrian estates, and the land would be developed so no one had to look at trucks or trailers or manure.
However, he's not sure that will fly with village officials. "I don't think the Wellington Village Council wants equestrian," he noted.
Some of the concerned neighbors agreed. "The property is not in the equestrian overlay," Evans noted.
Swerdlin said his meetings have had about 150 or more residents with only 19 saying it must remain a golf course. "I'm not sure seven percent will dictate what happens," he said.
He stressed that he has gone before neighbors to see what they will support before he put anything before the village officially. "With my background, I make evidence-based decisions for the direction we go," Swerdlin said. "A lack of communication about the current plans, and suspicion of the previous owner, means we will have to win over one neighbor at a time."
Judging from the opponents who spoke to the Town-Crier, that will not be easy.
"That's why he hired a public relations firm that specializes in development," Lacy said.
"He will need to ask for a change of zoning, and the council will not let that happen," Evans added.
Handwerker said that at his meetings, Swerdlin presented option A, B and C. "I wondered about an option D — do nothing," he said.
Selections offered by Swerdlin's team at one time or another have included estates, multi-family, high density, three-story and assisted living. "I didn't know we were so unhappy to need Dr. Swerdlin to come in and change things," Handwerker said.
Many of the concerned residents rebuffed Swerdlin's assertion that golf is dying. They cited recent stories that golf courses have bottomed out and the demand now exceeds the supply. "Golf courses do profit if they are managed correctly," Eden Delgado said.
Susan Miller commented that her husband has had trouble getting on a course nearby recently.
Lacy didn't like the plan of any new construction that would compete with the existing homes in Polo West, affecting their resale value.
Evans and others agreed that Swerdlin is a nice guy who has done great things in Wellington, but with this latest project has become "a front man for Straub."
To applause, Lacy summed up the group consensus: "Let's defeat Swerdlin. Let it go back to Straub. He can mow the lawn."
The trouble is, Lacy said, it is being sold as developable land when it should be sold as a golf course, adding that she told Swerdlin, "You paid $16 million. You overpaid for a golf course."