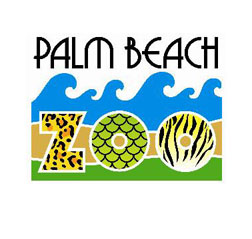 Since the Palm Beach Zoo & Conservation Society is temporarily closed to the public, the beloved West Palm Beach connection to wildlife is giving you a chance to stay in touch with your favorite fuzzy, feathered and scaly friends virtually. The Zoo is launching PBZ-TV, a weekday series of videos posted on its Facebook and Instagram pages at 10 a.m. Monday through Friday, beginning March 30.
PBZ-TV viewers will see exclusive footage featuring some of the most colorful and animated characters at the Zoo, including Darla, the Southern ground hornbill, and Priscilla, the African crested porcupine. These curious creatures will be exploring the Zoo and checking on the other animals too. The Zoo will provide rare and engaging content throughout the week, including an episodic series that unfolds over several weeks.
"We are grateful for the outpouring of support from the community during this unique time. For many in our area, the Zoo is a connection to nature and wildlife in their own backyard, which is important in times like these," said Margo McKnight, president and CEO of Palm Beach Zoo & Conservation Society. "As always, our zoologists are taking the very best care of the animals, and we know you miss seeing them, so we created a virtual way for you to check in on them until our gates are open."
In addition to videos, supplemental materials and quizzes will be available on the Palm Beach Zoo website and linked to the social media posts.
For more information check the Palm Beach Zoo Facebook and Instagram pages, @palmbeachzoo, and www.palmbeachzoo.org/activities.