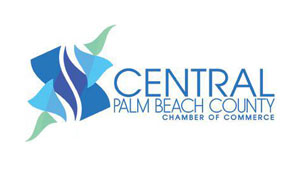 During this challenging and unprecedented time, the Central Palm Beach County Chamber of Commerce is working diligently to make sure that we are reaching out through e-mails, social media, teleconferencing and text messages to keep our member businesses and community partners informed.
We continue to send updates from municipal, county, state and federal levels to keep you connected and updated on such topics as Small Business Administration (SBA) loan requirements, local businesses that you can support and who want to serve their community, businesses that are looking to hire and employee assistance for those in need.
I want to assure you that the chamber is here for you and knows the struggle that many of you are experiencing. We will be here for you through the duration as we navigate this together. Now is the time for us all to be innovative, step up our digital presence and stay connected to one another.
As your business resource, please utilize our web site at www.cpbchamber.com. We have the latest updates on COVID-19, the applications for the SBA Loan program and the Governor's Bridge Loan program, as well as links to many of the agencies and organizations that you may require at this time. We also supported National Takeout Tuesday with a list of participating businesses. We encourage everyone to make every Tuesday a Takeout Tuesday for the length of this crisis.
As I write this on March 25, overnight, the White House and Congress agreed on a bipartisan $2 trillion virus relief bill with leaders of both political parties saying that this will create a rush of sweeping relief that will help the many businesses, workers and the healthcare system, which has been inundated by this pandemic. This is the largest economic relief measure in our nation's history and is intended to help keep workers employed and businesses from going under. We'll share more details on this relief package soon.
CareerSource Palm Beach County is also offering help for employers amid the COVID-19 impact.
Palm Beach County employers are having to make some difficult business decisions. That said, it's fortunate that we started all this from a position of economic strength, and we are optimistic that this pandemic will be short-lived, so that companies large and small can get back to normal soon.
Even though we are in troubling times, employers should keep in mind that layoffs now will be more costly later if you try to rebuild your business with new employees. I encourage you to do all you can to avoid layoffs by taking advantage of all the federal, state and local resources available to help you:
• The Florida Small Business Emergency Bridge Loan Program is available to provide short-term, interest-free loans to small businesses that experience economic injury from COVID-19. The application period is open now and runs through May 8. Interested businesses should visit www.floridadisasterloan.org for more information.
• The U.S. Small Business Administration is also offering low-interest federal disaster loans for working capital to small businesses suffering substantial economic injury.
• The Short Time Compensation Program, also known as Work Sharing, allows employers to receive assistance with retaining employees. The program is administered by the Florida Department of Economic Opportunity and permits prorated reemployment assistance benefits to employees whose work hours and earnings are reduced — helping to avoid layoffs.
• The Business Damage Assessment survey evaluates businesses affected by COVID-19 and the impacts that the virus has had on the local economy so actions to implement appropriate relief programs can begin. All businesses that have been impacted should fill out the survey at www.floridadisaster.biz.
• For those employers with job openings, the CareerSource business services staff can connect you with qualified candidates at no cost to you. Contact them at www.careersourcepbc.com or call (561) 340-1060 and select Option 3.
For any questions or additional help, please e-mail us at info@cpbchamber.com. Stay connected! Wishing you health, peace and hope,
Mary Lou Bedford, President/CEO, Central Palm Beach County Chamber of Commerce