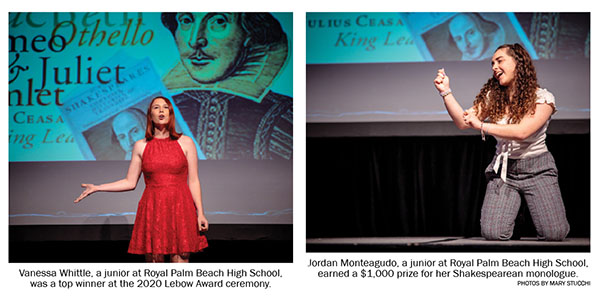 Celebrating its 11th year of awarding local high schoolers for their excellence in Shakespearean performances, the Lebow Award presentation was hosted on Saturday, Feb. 15 in the Kravis Center's Weiner Banquet Center. Cash prizes totaling $5,000 were bestowed on eight Palm Beach County students from six local Title I high schools following an adjudication process.
The two top winners were Jordan Monteagudo and Vanessa Whittle, both juniors at Royal Palm Beach High School. Each won a prize of $1,000. Ne'Quann Raymond, a senior at Forest Hill High School, and Emily Moreland, a freshman at FAU High School, were both awarded $750 as honorable mentions. Andrea Figueroa, a senior at Forest Hill High School, and Madison Porter, a sophomore at Forest Hill High School, were awarded $500 as distinguished participants. Notable participants Felicity Dillow, a sophomore at Royal Palm Beach High School, and Tedly Eximon, a senior at Glade Central High School, were both awarded $250.
Alpha Media's X102.3 Radio's MoShay LaRen served as the event's keynote speaker. After the awards ceremony, participating students and teachers were provided tickets to attend that evening's performance of Hamilton.
Sponsored by Kids' Dreams Inc., in memory of its co-founder, Alan Lebow, the award program engages students from Title I high schools and provides the opportunity for them to perform short selections from William Shakespeare's works before a panel of distinguished judges. The student adjudication took place on Jan. 11 before judges Desmond Gallant, Sally Ricca and Karen Stephens.
"This award ceremony is a fitting tribute to my husband," Patricia Lebow said. "He was a man whose passion in life involved theater, film, art and literature — always with an overriding touch of kindness for all those he met on his journey through life."
Judith Mitchell, CEO of the Kravis Center, welcomed guests to the Lebow Award ceremony and recognized the Kids' Dreams Board of Directors in attendance.
"I am pleased to honor the accomplishments of the 2020 Alan Lebow Award recipients," Mitchell said. "This program would not be possible without the support of Kids' Dreams. We also acknowledge the dedication and commitment of the high school teachers. Without their guidance and support, the students would not be prepared to participate in this outstanding program."