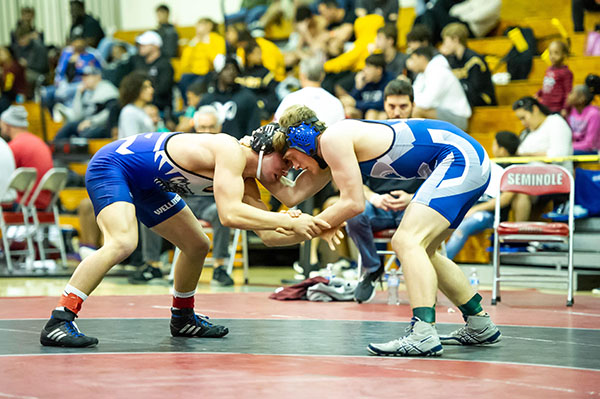 On Friday, Feb. 28 and Saturday, Feb. 29 the Seminole Ridge High School wrestling program hosted the Class 3A, Region 3 tournament.
The district qualifiers collected in the SRHS gymnasium to compete at the regional tournament. The top four qualifiers in the tournament were guaranteed a spot to compete in the state tournament at the Silver Spurs Arena at Osceola Heritage Park on Friday, March 6 and Saturday, March 7.
Wellington High School had six wrestlers qualify for the state tournament, while crowning three regional champions: James Marvel in the 126-pound weight category, Lukas Forehand in the 145-pound weight class and Justin Henry in the 152-pound weight division.
The host Hawks had one qualifier, Marco Luciano in the 106-pound division, who placed fourth overall. Wellington's Ethan Howard also placed fourth in the 120-pound class. Wellington's Patrick Jones in the 106-pound class battled Luciano and earned third place. Jesse Weinberg also took third place in the 138-pound class for the Wolverines. Seminole Ridge will be sending Luciano to represent the Hawks in the 106-pound division with a 22-12 record.
Probably the most notable grappler heading to the state tournament is Wellington's Henry in the 152-pound division, earning the regional title in his weight class and holding a 52-5 record. Henry won by pin fall to win the championship over Freedom High School's Cooper Galvin from Orlando.
In the 145-pound division, Forehand won a tight contest 7-5 in overtime over Max Wyatt from Olympic Heights High School. Marvel bested Ryan Ullayk from Palm Beach Gardens High School by major decision 14-6 in the 126-pound class.