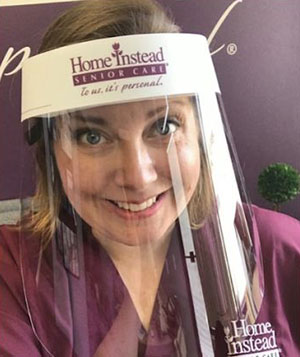 Wellington-based GearSource is proud to announce a partnership with Illinois-based Upstaging, making GearSource.com the "e-commerce partner" for their timely and important line of COVID-19 Personal Protection Equipment (PPE), manufactured by Upstaging at their USA facility. But the story doesn't end there.
Both GearSource and Upstaging are companies who generally earn their living in the concert touring business. In fact, a few short weeks ago, Upstaging was on tour with Billie Eilish, Pearl Jam and other top talents. Then, one by one, those acts began to cancel. Instead of laying off people and closing shop like so many companies in the touring world were forced to do, Upstaging's team of highly skilled people put their heads together to determine those items the world needed and they could produce in their in-house manufacturing facilities.
The first product to come out of Upstaging has been a massive success. The Optically Clear, Fog Free Face Shield helps to keep first responders, healthcare providers, cashiers, security personnel and many others safe, while keeping the family of Upstaging techs working. But new products, including Room Dividers will be released shortly.
"We recognized a need to offer an e-commerce/online solution for clients outside of our home State of Illinois, and I reached out to my 25-year friend Marcel [Fairbairn] and his team at GearSource to provide that solution and get these PPE products out to a wider audience," Upstaging General Manager John Huddleston said.
Working at "the speed of show business," Upstaging has been able to produce and sell thousands of shields, and now, with the power of GearSource, its web site and international sales team, the partnership will expand distribution of these vital products globally, quickly.
E-mail ppe@gearsource.com or visit www.gearsource.com/catalog/listing/134017. Learn more about Wellington-based Gear Source at www.gearsource.com.