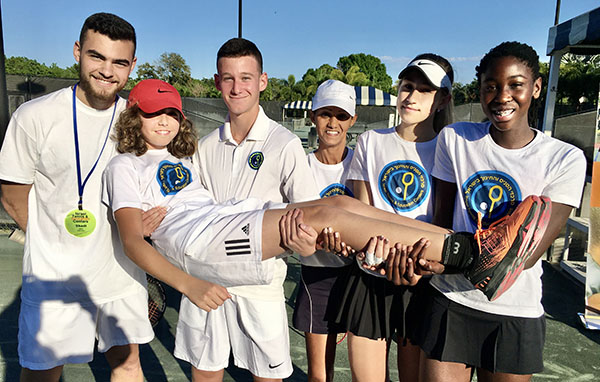 Bracing brisk weather, an enthusiastic crowd attended an exciting tennis showcase Thursday, Feb. 27 during the Wycliffe Golf & Country Club's third annual fundraiser in support of the Israel Tennis & Education Centers (ITEC). Approximately 425 people attended the match and following benefit dinner.
ITEC is a decades-old organization which promotes education, safety, coexistence and fun for children living in Israel. Proceeds from the event this year will benefit ITEC in Arad, a city in southern Israel and one of the centers in desperate need of support.
In a world filled with division, ITEC, according to its representatives, strives to use tennis as a vessel for peace and a vehicle to help cultivate the well-being of children.
The organization includes programs such as a coexistence program, a girls' empowerment program, a special needs program and a program for at-risk youth.
"The center in Arad is in critical need for funding," said Yoni Yair, vice president of development for the organization and an ITEC alum. "Our center provides shelter and guidance to children with special needs, serves boys and girls at risk, and children who come from diverse backgrounds — Christians, Bedouin, Muslims and Jews. The Tennis & Education Center in Arad is the flower of the city."
The organization has been in existence since the 1970s, but the name has recently been changed to include the word "education." The reason for this, Yair said, is that to ITEC, education is the priority.
"Most of our tennis centers are intentionally located in underprivileged communities, and our goal is to keep the children off the street," Yair said. "Last year, when we came here, we were called the Israel Tennis Centers. We had a lot of discussions, and what we do in Israel is way beyond tennis. Education comes first."
Shadi Al Tori, a 20-year-old member of ITEC, spoke to the crowd about his experience with the organization. In order for him to have a better life than what was common in the area where he grew up, Al Tori's parents sent him to ITEC 10 years ago.
According to Al Tori, his life was so positively changed after getting involved with the organization, his family took action.
"It started with me, and then moved to my brother and then my sister," Al Tor recalled. "At the end, it got into my parents, and we left our city, we left everything… just to be close to this place. So, you can see how it was important for us."
According to the young athlete, one of the things that was so meaningful about the center was the acceptance he felt from his Jewish teammates. Children of different religions are strategically paired together in ITEC in order to learn and practice coexistence.
"I play with the Jewish people in my group. I like them, they like me, and I respect them all," said 13-year-old Majd Garra, a student at ITEC. "Even my parents like to come to the tennis center. The Arab parents and the Jewish parents — they're sitting in the cafeteria talking and having fun."
Marty Ross, one of the co-chairs of the Wycliffe event, is passionate about ITEC because of its efforts to promote peace in Israel.
"This formula is a success formula that needs to be told throughout the world," Ross said. "This is a role model for success formula, and it's held under covers."
"It's helping people from a young age learn to work together," added his wife Harriet Ross, also a co-chair. "And that's very important for peace throughout the whole world."
To learn more about the Israel Tennis & Education Centers, visit www.itecenters.org.