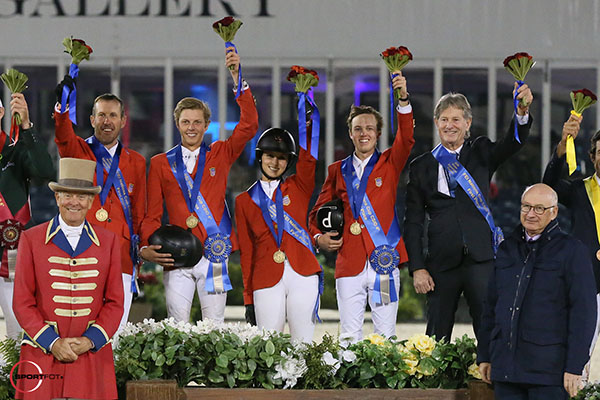 The future of U.S. show jumping was shining bright as a team of up-and-coming athletes dominated the $150,000 Nations Cup CSIO4* in the International Arena on Saturday, Feb. 29 at the Winter Equestrian Festival in Wellington.
The Saturday Night Lights Nations Cup consisted of two rounds over a course set by Ken Krome. Teams of four represented the nations of Australia, Brazil, Canada, Chile, Colombia, Ireland, Israel, Mexico and the United States. After the first round, each team dropped its highest score, and the top-six teams returned in order of highest to lowest total faults in the second round. The winner was determined by the lowest total of each team's top-three riders from each round.
The six teams that returned for the second round included the fault-free United States, Ireland on five faults, Brazil and Canada on a tally of 13 faults each, and Australia and Israel with 17 faults each.
Leading the way, the NetJets U.S. Jumping Team consisting of Andy Kocher aboard Squirt Gun, Brian Moggre on MTM Vivre le Reve, Lucas Porter with C Hunter and Adrienne Sternlicht riding Just A Gamble, carried the leading scores in both rounds and finished the night on just four penalties for the win. The U.S. riders were coached by Chef d'Équipe Robert Ridland.
Irish riders David Blake, Darragh Kenny, Paul O'Shea and Billy Twomey took the silver-medal position on 13 faults, while Australia's Amy Graham, Scott Keach, Hilary Scott and Rowan Willis rounded out the podium.
Sitting pretty on a perfect score after Kocher's lone time fault served as the drop score from round one, U.S. riders were primed for a win on home soil. A double-clear performance from 18-year-old Moggre and his 11-year-old Westphalian gelding sealed the victory for his team in his senior Nations Cup debut.
"Everybody wants to jump clear their first time on the team, so for my horse to make that happen for me, I couldn't be more thankful," Moggre said. "It's quite a surreal feeling. To be on the team here really meant a lot. MTM Vivre la Reve is my top horse at the moment. He's a horse I know like the back of my hand."
Fellow young rider Porter, 22, notched a fault-free ride in the opening round and settled on a single rail in the second, riding longtime partner C Hunter, a 13-year-old Zangersheide stallion.
"I was really thankful to be a part of the team, and I aimed at this Nations Cup since the start of the season here in Florida," said Porter, who was also making his senior Nations Cup debut. "I thought my horse jumped two great rounds tonight. He jumped a really amazing first round and was a bit unlucky with my rail, but I'm really happy with him. We've come a long way together."
Pulling through for a clear in the second round to help his team's total, Kocher, 36, and Squirt Gun were pivotal for their team in the rider's second Nations Cup team appearance. "He's by far the best horse that I have at the moment," said Kocher of the nine-year-old Oldenburg gelding owned by Eye Candy Jumpers. "Last year in the high schooling [jumpers] at WEF, I fell off him our first time out, so it's incredible what 18 months can do."
Coming in with the most team experience under her belt, Sternlicht, 26, served as the anchor rider and posted a clear round with Just A Gamble, but did not return for the second round thanks to her teammates' scores securing the win. "I'm very thankful for my teammates who made it very easy for me," she said. "I think we're a young team, but have a lot of strong riders who have had consistencies leading up to this event. I think that was showcased in their awesome rides."
A very proud Chef d'Équipe Ridland spoke highly of his young team.
"This team was chosen right down the ranking list of the applicants, and to see them do that tonight was just amazing," he said. "It really fits into what we've always tried to do; you can have a team of three veterans and two newer riders, but it's all in the same spirit of giving experience when it really counts. There's nothing like pressure at home; it's Saturday night with everything on the line, and nobody in the stands cares that this is their debut. They're rooting for the Americans! The American flag was everywhere, and it's a different kind of pressure at home. For these riders to experience that and to have the flag on the saddle pad for the first time, this is invaluable."