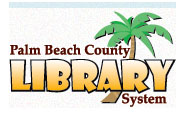 The Palm Beach County Library System has many resources available to help students, parents and teachers during virtual schooling. Staff members are available by phone, e-mail and chat to answer technology and other research questions through Ask-A-Librarian at www.pbclibrary.org.
Temporary Free E-Cards — The library system is offering free temporary e-cards to residents so they can access online resources and digital materials. To sign up, visit www.pbclibrary.org and click on the Virtual Library icon. 
Technology Assistance — The library system is offering one-on-one chat with a librarian who can help with technology needs, including navigating the virtual classroom. Video chat sessions are available through the Zoom app. Call (561) 233-2600 to book an appointment.
ABC Mouse — The library system has partnered with Age of Learning to provide free home access to ABCmouse.com (ages 2-8), Early Learning Academy (ages 2-8), Adventure Academy (ages 8-13) and ReadingIQ (ages 2-12) while libraries are closed due to COVID-19. Complete the form at www.pbclibrary.org/abcmouse to receive an access code to services.
Homework Help — Tutor.com/Live Homework Help is a free library service that offers online tutoring in math, science, social studies and language arts. Live one-on-one sessions are available every day from noon to midnight. Assistance in Spanish is available from 2 p.m. to midnight.
Learning Express — Learning Express is an online learning site with skill building modules for elementary, middle and high school students, test preparation materials and practice exams including test preparation e-books. Take practice tests for the GED, SAT, FCAT, firefighter, postal worker exams and many more.
Virtual Story Times — The library system is hosting Virtual Story Times on YouTube, and sharing them on Facebook, Instagram and Twitter every Monday, Wednesday and Friday at 10:30 a.m.
To see the Virtual Library magazine, click here. For more information, visit www.pbclibrary.org/virtual-library.