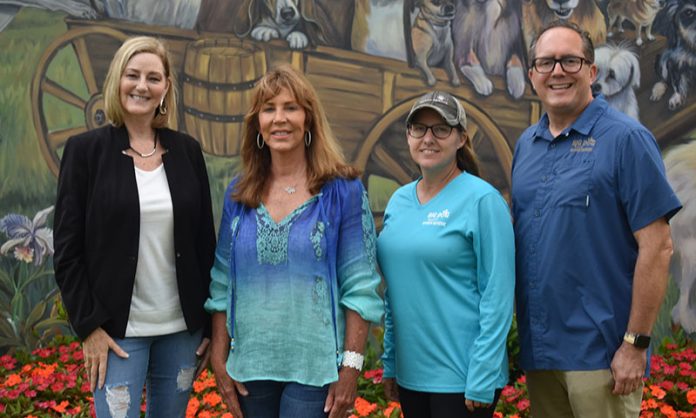 There's a big focus on animals in the western communities, and it goes far beyond the equestrian industry. There are also many animal shelters, including Big Dog Ranch Rescue, a 33-acre canine paradise in Loxahatchee Groves where dogs of all ages and breeds get a second chance at life.
Big Dog Ranch Rescue has done big things for the community's displaced, injured and abandoned animals for years. The organization takes in hundreds of owner-surrendered dogs from residents that would ultimately end up on the street or taxing the county shelter system. The organization is also known for taking in critical cases directly from county shelters, such as dogs hit by cars and other trauma cases that require costly, long-term treatments.
Recently, Big Dog Ranch Rescue has begun the initial roll-out of a low-cost sterilization program for community members who could otherwise not afford these procedures, with the goal of not only aiding residents in keeping their beloved pets but also help with animal over-population.
While this big-hearted organization has saved more than 40,000 dogs to date, Big Dog Ranch Rescue now needs the community's help in this time of crisis.
COVID-19 has knocked the wind out of industries and individuals from all walks of life, and that includes a huge financial dent for many local nonprofits. On March 8, all large events were canceled on the order of Gov. Ron DeSantis. This order just so happened to strike the day before Big Dog Ranch Rescue's largest annual fundraiser. The seventh annual Wine, Women & Shoes event was sold out with more than 700 women ready to go. Everything was already set up — including the tables and tent — and the money to stage the fundraiser was already spent.
Additionally, Celebrities Chefs for Canines, scheduled for April 23, was also canceled.
"These annual fundraisers are what our organization relies on to get us through the summer, pay our staff, medical supplies, pay our veterinarian and keep the lights on," said Lauree Simmons, founder and president of Big Dog Ranch Rescue. "We took a million-dollar hit here. It has absolutely devastated our rescue efforts."
The organization was forced to cut staff by 25 percent and shut down one of its buildings to reduce the cost of utilities. Despite the financial setback, the organization is still taking in abandoned dogs. "The need to help these animals has not stopped, and many county shelters have closed intake," Simmons added.
Additionally, Big Dog Ranch Rescue has been running an on-going pet food drive to support community members who are not able to afford dog food given the current financial crisis. Meanwhile, calls are coming in daily from people asking the nonprofit to take their pets because they cannot afford to keep them. "It is heartbreaking and a very scary and uncertain position to be in," Simmons said. "But we won't stop. We cannot stop. The animals and the people need us."
What can you do to help? You can donate at www.bdrr.org. You can become a monthly donor. Even $5 or $10 a month makes a huge impact. You could also consider starting a Facebook fundraiser. Check out Big Dog Ranch Rescue's social media page to learn how.
Potential supporters are also invited to visit the organization's Amazon Wishlist, which has much-needed supplies that are used to care for the dogs.
Donations don't have to be new. Consider donating your old sheets and towels, baby pools to keep the dogs cool, old baby mattresses for senior dogs, and gently used washers and dryers are welcome as long as they are in working order. Pickup is available.
You can also become a corporate philanthropy partner. If you have a company that offers services, call (561) 791-6465 to find out how you can help. Finally, you can volunteer your time at the ranch. With cuts in staff, volunteers are desperately needed. E-mail volunteers@bdrr.org to learn more.
"It is amazing what can be accomplished when a lot of people do a little," Simmons said.