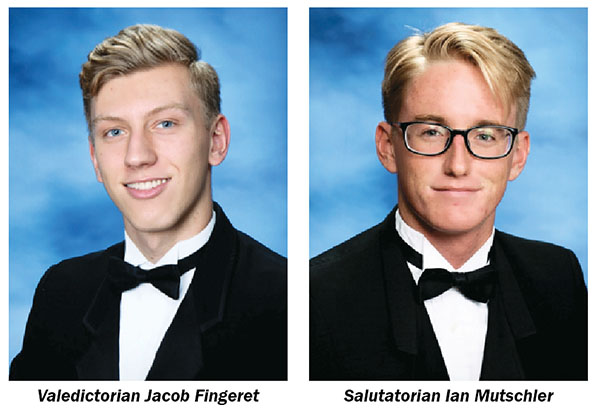 An unprecedented year at Palm Beach Central High School will come to an end on Tuesday, June 2 at 8 p.m. when the Class of 2020 will graduate, not by marching at the South Florida Fairgrounds, but glued to their television, computer screen or mobile device.
The ceremony will be held virtually, streaming online and televised on the school district's various channels. Learn more at www.palmbeachschools.org/graduation2020.
"Of course, it has been an unprecedented year, and our seniors have led the way," Principal Darren Edgecomb said. "It is due to their endurance, tenacity, intelligence and confidence that we were able to persevere."
The class will be led by valedictorian Jacob Fingeret and salutatorian Ian Mutschler.
"Jacob and Ian are extremely popular, and they helped to lead the way in the Class of 2020," Edgecomb said. "The class of 699 as a whole rose to the occasion, and these two phenomenal young men were truly leaders."
Mutschler lives with his parents and has two sisters — an older sister attending college in Jacksonville and a 15-year-old younger sister at home. He will be attending Florida State University, where he plans to major in meteorology. Mutschler graduated with a 3.9474 grade point average (GPA) and a 5.3662 honors point average (HPA).
"After my sophomore year, I saw I had a shot and thought it would be pretty cool. I wanted to go for it," explained Mutschler about being named salutatorian.
Of course, he also got some parental encouragement during his academic journey. "My mom pushed me along the way," he said.
Mutschler was a member of the National Honor Society, active in the Student Government Association and works as a lifeguard at the Wellington Aquatics Complex.
One of the challenges of switching to online schooling was the "bizarre transition of trying to learn calculus over a computer screen. It is not easy. I'm more of a face-to-face person," Mutschler said.
Mutschler, however, remains optimistic about the future. "With the virus, I trust people in charge to the extent that they know what they are doing," he said. "I'm confident that there will be a vaccine or some kind of herd immunity. I am already seeing signs of re-opening, and that gives me hope. I think that maybe in a few months or a year, things will be back to normal."
Mutschler offered some advice to his fellow graduates.
"Having a high number is great, but don't forget your friends and the people you meet," he said. "They are much more important than a number. It is cool to be able to speak at graduation or to have a bunch of cords, but don't forget your friends. They are more important than your GPA — and enjoy things while they last because, as we have seen, it can all be pulled away at any time."
To the students who will be seniors next year and the year after, Mutschler suggested that they may not want to follow his exact example.
"Don't kill yourself like I did," he said. "I'm not saying it wasn't worth it; but focus on relationships. That is going to be what builds your character more than anything."
Fingeret has a 15-year-old brother and a sister who just turned 11. He graduates with a GPA of 4.0 and an HPA of 5.5. He has been rated at the top of the class since he was a freshman.
"When I learned that, I thought, 'Maybe if I try, I can maintain this,'" recalled Fingeret, who will be attending the University of Florida as a pre-med major.
Before the virus hit, he played soccer and water polo, and he served as treasurer of the National Honor Society and a member of the history, environmental and social studies honor societies. Along the way, he also found time to work at Wawa.
The challenge Fingeret noticed most with the switch to online schooling was the workload.
"It was an interesting change," he said. "I felt like we started doing more work. Maybe it was because the teachers gave assignments, and you didn't have any time at school, but definitely adjusting to keep your schedule and to keep up with everything was challenging."
Fingeret offered some advice to fellow seniors. "Expect the unexpected," he said. "Not everything is going to go your way. Assess the situation and adapt to it. So long as you have air in your lungs, you are probably doing pretty good."
A typical home-schooling day for Fingeret has included a lot of learning.
"I get up at 8:30 a.m. and do Google meets for my classes," he said. "I learn calculus that I may or may not understand. The computer doesn't bother me much. I take college classes that were online before corona. At 3 p.m. I exercise, then do homework until 9 p.m. From 9 p.m. to midnight it is free time for family time or Netflix, then bedtime."
As for next year's seniors, Fingeret's advice is: "Always work as hard on schoolwork as you can but remember that friends are most important. It all ends pretty fast."