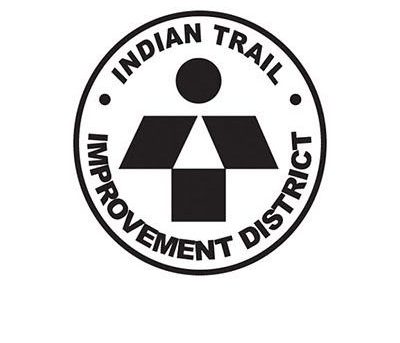 The Indian Trail Improvement District has opened its park facilities in a limited capacity, observing the guidelines set out by the Centers for Disease Control (CDC), according to ITID Parks & Recreation Director Elizabeth Ricci.
ITID has been in phase one opening for about two weeks, with limited access to passive parks, observing six-foot separation and wearing face masks, Ricci said at the May 13 meeting of the ITID Board of Supervisors.
"We are still doing no organized sports, and phase one consists of passive parks only, which means open green space," she said. "We are still limiting it to groups of no more than 10 people at a time. We're encouraging people to follow CDC guidelines, wearing masks and staying six feet apart."
The Nicole Hornstein Equestrian Park has re-opened by reservation for residents only.
"It is open seven days a week, but by reservation only, and we're allowing ITID residents only at this point, and it is one appointment per resident per day," she said. "Last week, we had 22 appointments, and this week we had 26 appointments at Nicole Hornstein."
Ricci said she is unsure when ITID will be able to go into phase two operation.
"Phase one is really limiting what types of activities we can do," she said. "We don't have a definitive date as to when phase two will re-open our parks. It will most likely include state parks and dog parks, but at this point, we're looking to do some distance programming and also looking at different types of events we can do while still following all CDC guidelines."
For example, among the events planned for next month are a drive-in movie.
"That way we can still have an event, everyone can stay in their cars and it will be a safe activity for families," Ricci said. "We are currently working on some logistics to see what we can do."
ITID's parks department is also working on using Instagram through ITID for virtual programming, such as do-it-yourself videos at home.
The department is also assisting Seminole Ridge High School's Project Graduation with a parade on Saturday, May 30 starting at 9 a.m. The parade, honoring the Class of 2020, will start at Citrus Grove Blvd. and proceed down 140th Avenue North to Acreage Community Park.
"All the seniors who are missing graduation this year will get to participate in the parade," she said. "We will have a few food trucks at the park. Again, we will follow very strict CDC guidelines, with everyone wearing masks and staying six feet apart. Everything will be roped off so they will know how far apart they need to be. We are working with the PBSO on road closures for that."
Ricci added that ITID recently received a grant for improvements at the Nicole Hornstein Equestrian Park.
"Upgrades at the park are walkway lighting for security purposes, interior walking paths, permanent seating areas, watering stations, handicapped mounting stations, shade structures, washdown stations, pedestrian gates and new roofs for the horse barn, and also additional trailer parking," Ricci said, adding that the plans will be presented to the board after staff receives follow-up approval from the state.