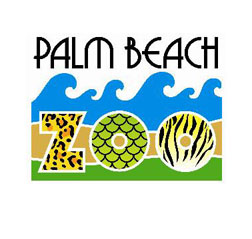 On behalf of Oz the Queensland koala, Valentina the Chilean flamingo and Wilbur the local celebrity sloth, the Palm Beach Zoo & Conservation Society invites its zoo members to a members-only pre-opening week June 1-4 from 9 a.m. to 5 p.m. The zoo will re-open to the general public on Friday, June 5.
"We are beyond grateful for the support of our loyal zoo members, so we are thanking them in a meaningful way," said Margo McKnight, president and CEO of Palm Beach Zoo. "It is time to get back outdoors with your loved ones and visit nature, and we want our members to be the first to step back inside the zoo."
In accordance with Florida Phase 2 reopening guidelines and Gov. Ron DeSantis' recommendations, the zoo will admit a limited number of guests to its 23-acre fully outdoor venue.
"With safety as our top priority, we have implemented a comprehensive plan that includes the limited, gradual and safe return of guests, leveraging our zoo's unique design, open-air setting, one-point entry and highly trained staff who are committed to delivering a safe experience," said Casey Coy, Palm Beach Zoo chief operating and security officer. "Entry for members will be on a first-come, first-served basis. With our spacious outdoor setting and large capacity, we are not requiring timed reservations."
The zoo will be operating normally with a few notable exceptions for the member preview:
• Capacity will be limited, and no tickets or memberships will be sold on-site during the member preview.
• A one-way path will be designated throughout the zoo in the Florida Wetlands, Tropics of the Americas and the Islands.
• Certain exhibits will be closed or roped off, including the carousel, train, observatory, cafe, aviary, butterfly garden and bronze statues.
• Hand-sanitizer stations will be available throughout the zoo.
• Animal talks and animal experiences will not take place at this time.
• Stroller and wheelchair rental is not available, and guests are encouraged to bring their own.
Guests to the zoo are asked to refrain from visiting if they are in a high-risk category for COVID-19 complications, are not feeling well or have a fever. Guests are also encouraged to wear masks, utilize hand-sanitizing stations and maintain a six-foot distance from other groups.
During the member preview, zoo staff will continue enhanced cleaning and sanitation protocols for all shared surfaces and restrooms and will be wearing masks. Zoo entry will be touch-free for members. The chlorinated splash pad in Fountain Plaza will be active during the preview week with social distancing recommendations at six feet.
Food service will be available at the walk-up window adjacent to the cafe and at food carts in the Fountain Plaza. Tables will be spaced along the pathways and on the cafe deck, at least six feet apart. Sharing of tables with other groups is discouraged.
Behind the scenes, the Malayan tiger cubs are healthy and well, and Api is excelling at motherhood. The zoo expects members to be able to see mom and the cubs in the tiger habitat toward the end of summer. Until then, the zoo will continue to update its social media channels (@palmbeachzoo) with the latest cub cuteness.
How to attend:
Current Zoo Members: Upon arrival and to expedite entry, members should have their membership card and photo ID ready at the time of entry. Only the named person(s) on the card and the number of guests allowed by that membership level will be allowed to enter the zoo. No individual tickets will be sold on-site. If the membership card is unavailable, zoo staff will look up the membership information, which may take additional time. Entry is not guaranteed and will be closely monitored to provide ample space for social distancing.
Become a Zoo Member: Community members who would like to attend the preview can purchase or renew an expired membership on the zoo's web site at www.palmbeachzoo.org/membership. Be ready to show proof of purchase at entry. Entry is not guaranteed and will be closely monitored to provide ample space for social distancing.
The Palm Beach Zoo will fully open to the public Friday, June 5. Purchase your tickets in advance for touch-free entry on the zoo's web site at www.palmbeachzoo.org.