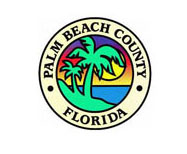 At an afternoon news conference on Thursday, June 11 in Greenacres, Palm Beach County Mayor Dave Kerner shared details about stepping up deployment of the mobile testing vehicle Scout in underserved neighborhoods throughout Palm Beach County.
Joining Kerner were County Commissioner Gregg Weiss, Greenacres Mayor Joel Flores, Health Care District of Palm Beach County CEO Darcy Davis, County Administrator Verdenia Baker and Dr. Alina Alonso, director of the Florida Department of Health-Palm Beach County.
It is hoped that with increased testing, contact tracing and responsible behavior by the public, there won't be a major resurgence in new COVID-19 cases, and the county can safely move forward with re-opening businesses and getting people back to work.
"The message you're hearing loud and clear is that the virus is still here," Alonso said. "It has not gone away. It is still infecting many people. There is still community spread."
She said it is essential for businesses to faithfully follow all social distancing and safety measures spelled out in their individual re-opening plans.
See video from the news conference below: