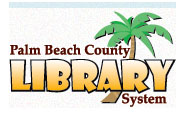 Beginning on Monday, June 15, the Palm Beach County Library System will offer some evening and Saturday hours. All locations will be closed on Sundays. The bookmobile is running on a limited schedule.
Hours for most locations will be Monday, Thursday and Friday from 10 a.m. to 6 p.m.; Tuesday and Wednesday from 10 a.m. to 8 p.m. and Saturday from 10 a.m. to 5 p.m.
Hours will be different at the Clarence E. Anthony branch in South Bay, the Loula V. York branch in Pahokee and the library branch in Tequesta. Visit www.pbclibrary.org for details.
Visitors are required to wear facial covers during their visit per County Executive Order 2020-010. A limited number of computers will be available with social distancing measures in place. Computer users are limited to a one-hour computer session per day. For safety, returned materials will be quarantined for 72 hours. Members are asked to return items through the book drop or automated returns and to place items removed from shelves on book carts for quarantine.
To see what virtual activities will be available through Zoom, visit www.pbclibrary.org.