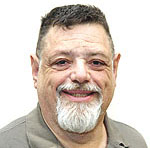 'I' ON CULTURE
There is a strange, weird, fascinating TV series now running on Showtime. Its name is Penny Dreadful: City of Angels. With an overtone of saint versus demon intervention, it is a story of racism, sex and power on the streets of Los Angeles in 1938. It is a mix between the old police noir movies of years ago with a supernatural sheen and a dose of sexuality underlying much of it.
This seems a battle between Santa Muerte (Lorenza Izzo), whose task seems to be to carry dead souls to their final destination, and her sister Magda (Natalie Dormer), a demon who believes that people are monsters, and all you have to do is make sure they know they can do whatever they want. To help things along, Magda can take many forms, play many roles, setting different groups against each other. And in LA at the time, there are several groups at each other's throats.
The central character is Tiago Vega (Daniel Zovatto), the first Mexican-American detective on the LA police force. He faces intense racism from other cops, who see him as no different from other Chicanos, while he desperately wants to fit in with the force. His partner Lewis Michener (Nathan Lane) is Jewish and is the only detective willing to partner with him. And on his first day, he is assigned to a horrific murder of a family that seems to be grotesque part of a Mexican death rite. Capt. Vanderhoff (Brent Spiner), his boss, wants him to find someone to blame for the crime. Someone who is also Mexican.
Adding to all of this is the story of Dr. Peter Croft (Rory Kinnear), a German who seems very kindly, lovely to his children, willing to help the unfortunate. He is charming until we find out he is an ardent Nazi, who is infatuated with Elsa (Dormer, in one of a whole group of incarnations), which leads to murder and threats against his wife. The Nazis are on the move in LA, hoping to take power, which leads Michener to go to Jewish gangster Benny Berman (Brad Garrett) for assistance, some of which involves killing.
And there is Councilman Townsend (Michael Gladis) who, encouraged by his mousy assistant Alex (Dormer again), is planning to build a highway right through a Mexican-American neighborhood, knowingly destroying the neighborhood. He is friendly with the Nazis and has a guilty secret.
And in the middle of a lot of this is radio evangelist Sister Molly (Kerry Bishé), who is a lure for Tiago and a source of strength for his sister Josefina (Jessica Garza), who we see being abused by a police officer who is then murdered. Then things really get messy.
The show is well-paced. There is a lot of focus on the development of the many characters. Yes, there is action and violence. But there also quiet scenes where the skills of the actors are clearly demonstrated.
Lane, as expected, steals many of his scenes. He is the perfect noir cop, not believing anybody but with deeply held feelings. He understands that the law is often ridiculous, but he is a key worker for justice on his own terms. Zovatto is good as Tiago, torn between loyalty to the police and his family/community. Garcia, in the far smaller role of his sister, is amazing. Going through trauma and searching for faith, she seems not to be acting. You forget that this is just a performance.
Bishé is also great; it is impossible to know if she is actually good or evil, or perhaps just wanting to be good but not quite there. Gladis is so good that even though he is a racist with Nazi tendencies, he rises above caricature. His part, as well as his acting, help him become very human, even vulnerable. The cast as a whole is superb, particularly the many young Hispanic actors in very tough roles.
But Dormer still stands out. Each of her roles is different. Magda is a brilliant devil. Elsa, a frightened German housewife. Alex is a smart, scary political mind. Rio, a gender-fluid, non-Hispanic leader of a Hispanic gang. She makes each of them special.
The scenes flow together brilliantly, the pace constantly changing. For those fans of the original Penny Dreadful, this is very different. Because I like this, I have begun to look at the earlier series and will probably do a review in the future. But the earlier series is gothic; supernatural things happen in the shadows. Here, men who are not supernatural show their monstrous qualities while baked in the California sun.
This is excellent drama. Give it a shot.