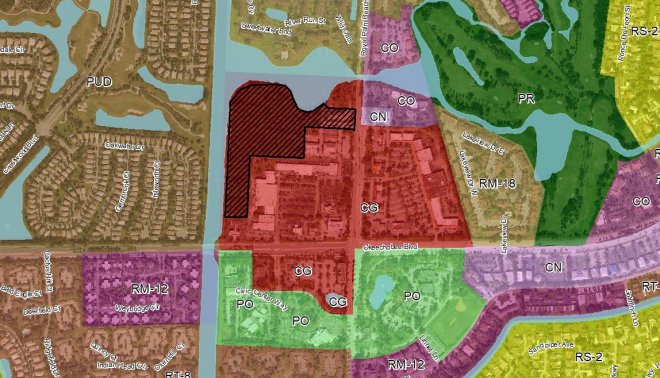 The Royal Palm Beach Village Council on Thursday, June 18 approved the first reading of a land use change request from commercial to residential with plans for about 100 townhomes on 12.28 acres north of Okeechobee Blvd. and west of Royal Palm Beach Blvd., north of the Village Royale shopping center.
Several members of the public spoke both for and against the proposed land use change requested by the property owner, former County Commissioner Jess Santamaria. The proposed name of the project is Lakeside Landings.
Staff recommended denial of the request, based on code requirements, but Mayor Fred Pinto pointed out that the commercial designation was granted in 1988 and has stayed vacant up until now. Meanwhile, the profile of the village has changed significantly since then, and the landowner was asking for an amendment.
"This is not a Village of Royal Palm Beach project," Pinto said. "We don't own this property. This is a private project, just like all of you are landowners of your property and your homes."
He said the village has seen extraordinary growth since 1988, particularly with commercial uses, and the village currently has numerous empty storefronts. "Adding more commercial is only going to exacerbate the problem of empty stores," Pinto said.
Planning & Zoning Director Bradford O'Brien said the land use change would enable the developer to build about 100 townhome units at a density of 8.4 units per acre, and he pointed out that the proposal meets all traffic and infrastructure requirements. However, O'Brien said, it is not compatible with surrounding land uses and does not meet the buffering or bike path standards to comply with current village code.
A representative for the developer said the plan reduces the traffic load more than 70 percent from what a commercial use would put on nearby roads and asserted that residential use would be more compatible and aesthetically pleasing than a commercial use for the site.
During public comment, several residents spoke against the proposal, but former Councilman David Swift, at times a Santamaria critic, said he liked what was presented, recommending that the developer work with residents of Madison Green across the canal.
Vice Mayor Jeff Hmara said he had visited the property and found it to be littered with trash and a potential squatting area.
"I looked at the property, and across the canal it doesn't look too bad, but close up it looks like a dump site," Hmara said. "It has been like that for a long time."
He pointed out that the area is well policed, adding that leaving the property as it is, compared to developing the property as residential, are both areas of concern, although he favored approving the land use change.
Councilwoman Jan Rodusky pointed out that the original intent was to put a hotel at that location, and that purpose would complement the newly renovated Royal Palm Beach Cultural Center nearby for weddings and other affairs, and said she would not be voting for the land use change to residential use.
Councilman Richard Valuntas made a motion to approve the land use change, which carried 4-1.