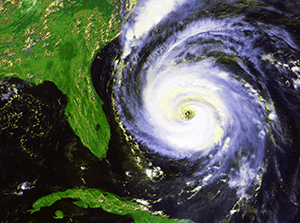 While the COVID-19 pandemic has been dominating life over the past several months, the Village of Wellington has not forgotten that hurricane season got underway this week.
With three named storms already on the books, the 2020 storm season could add another layer of danger to an already unprecedented year. According to Mayor Anne Gerwig and Village Manager Paul Schofield, Wellington has already been preparing for months to make sure that the community is as prepared as possible should a major storm come this way.
Experts have predicted a busy storm season.
"We do not see any difference between our work in any other year," said Schofield on preparing for storm season while also fighting a pandemic.
He did note that the number of people on village crews are smaller to maintain social distancing.
For months, village staff has been doing preventative maintenance, storm water preparations, tree trimming and debris removal. "The canals have been cleaned, and the generators serviced," Schofield said. "We have made sure everything is ready."
Schofield added that an unannounced drill will be held in the near future to ensure nothing still needs to be done and that the village is prepared to face a storm emergency.
He added that the biggest challenge is with debris management.
Schofield explained that the village gets reimbursement for debris removal but can't go onto private property in gated communities unless the homeowners' association has signed an emergency agreement allowing Wellington staff to enter and do the work. "The hardest part is always getting the HOAs to sign and return the agreement," he said.
Gerwig said hunkering down amid the backdrop of COVID-19 will pose different trials for residents, and maintaining all the services that the village provides is always a challenge. "These are uncharted times," she remarked.
She advised that all residents make sure their hurricane supplies are on hand and their storm plan is up to date.
"The village has contingency plans, and the residents should have them, too," Gerwig said. "They should have enough medical supplies and medications to last them a few days in case they can't go out and get more."
COVID-19 could require some updates to the hurricane supply list.
"Now their hurricane kit should include cleaning supplies and hand sanitizer," Gerwig said. "Thanks to our staff, we have never had a situation where our water was an issue, but we have all learned that isopropyl alcohol is an excellent sanitizer."
Gerwig said that a challenge in the past was to find enough hotel rooms for people from out of town who come in and help the area recover, but that provisions have been made for that situation.
She also reminded residents that village preparations for an impending storm include collecting trash and tree trimming debris, but that such activity has to stop before the storm arrives.
"Please follow the messages put out by the village and don't put tree trimmings and garbage out at the curb after the final pickups," Gerwig said. "It presents a danger to your home and your neighbors' homes."
To make sure you are ready, visit the hurricane resources on the village' web site at www.wellingtonfl.gov, where you can also sign up for the village's emergency alert system.
For further ideas, check out Palm Beach County's hurricane planning guide at www.pbcgov.com/hurricane.