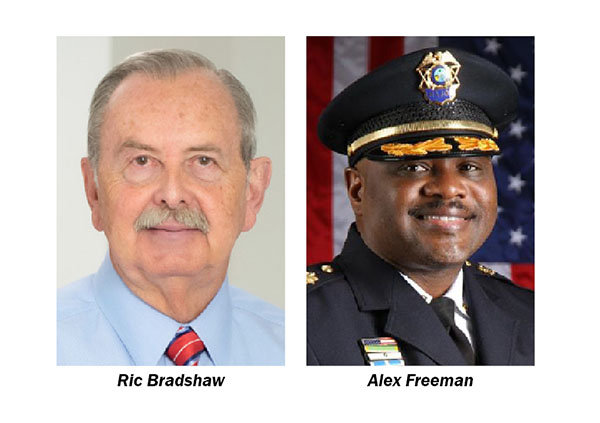 The League of Women Voters of Palm Beach County, in cooperation with the American Civil Liberties Union, held a virtual candidates forum on Monday, July 27 featuring the candidates for Sheriff of Palm Beach County.
Incumbent Sheriff Ric Bradshaw faces a challenge from retired Riviera Beach Police Major Alex Freeman in the Democratic primary on Aug. 18. The winner of the primary will face Republican candidate former PBSO Capt. Lauro Diaz in November's general election.
The event was moderated by Mark Schneider of the ACLU of Palm Beach County. Mail-in voting is already underway in the primary election, with early voting set to begin Monday, Aug. 3.
Palm Beach County's top law enforcement officer for the past 16 years, Bradshaw pointed out that he has 50 years of law enforcement experience with 25 years of that time running law enforcement organizations, including the PBSO, and previously as chief of the West Palm Beach Police Department.
"I am the person who has been keeping you and your family safe for the last 16 years, and that's what's important to remember in this election," Bradshaw said. "Who do you trust to make decisions? Do you trust somebody who's never done this job before?"
He added that during his tenure in office, the PBSO has helped reduce crime 25 percent.
Freeman, now retired from the Riviera Beach Police Department, ran unsuccessfully for sheriff against Bradshaw in 2016. He noted several of Bradshaw's failings, including the controversial legal process under Bradshaw's leadership that Freeman said allowed deceased sex offender Jeffrey Epstein privileges that would not have been afforded others in a similar situation.
"When you talk about crime being down 25 percent, he has been sheriff for 16 years and in the law for 50 years. I question that," he said. "That means crime has went down 1.5 percent in his 16 years as sheriff. That is nothing to be happy about."
The candidates were asked to comment on the recent deaths of George Floyd in Minnesota and Breonna Taylor in Kentucky at the hands of law enforcement, which have resulted in ongoing nationwide protests that have also occurred here in Palm Beach County.
Freeman said that there is a state of emergency with law enforcement and the communities they serve.
"There needs to be a change, and this is the time," he said. "I believe that with my experience and honesty, and my connection with the communities, that we can bridge that gap between the communities and the sheriff's office. Unfortunately, we the people do not trust law enforcement today, and the reason why is the serious and excessive behavior that some of our law enforcement of this country has been able to engage in."
Freeman added that he felt that law enforcement excesses were only from a small percentage of agencies and officers, and that most work hard to live up to their commitment to protect the public.
"As your next sheriff, we are going to work with Tallahassee, the lobbyists and also the union to bring about police reform in the Palm Beach County Sheriff's Office," he said, adding that there is a need for body cameras, civilian review boards and special prosecutors, and that there have been incidents within the PBSO among a small percentage of deputies who have abused their position, such as the shootings of Seth Adams in Loxahatchee Groves and others whose families were awarded large legal settlements for bad police behavior.
Bradshaw said that after the George Floyd incident, he watched a speech by former President Barack Obama where he cited steps that must be taken to reform law enforcement. "We've been doing those things for a lot of years now," he said. "Two of the most important things for accountability are having the policies where they need to be, but when it comes to reporting and investigating uses of force, nobody does it better than we do. We have state-of-the-art documentation. In fact, we are already networking with the FBI to take our documentation… and put them into the national database."
Bradshaw added that the PBSO has a database that tracks deputies who use force more often than they should so the department can take corrective action.
Bradshaw has a master's degree in administration with specialization in emergency management. Learn more about his campaign at www.ricbradshawforsheriff.com.
Freeman retired last year as a major with the Riviera Beach Police Department. He has a bachelor's degree in public administration and certification in command officer development. Learn more about his campaign at www.alexfreemanforsheriff.com.
Diaz, the Republican candidate, also took part in the forum. However, he does not appear on the August primary ballot. The Town-Crier will cover the November races closer to the general election. Learn more about his campaign at www.diazforsheriff.com.
Watch the entire forum below: