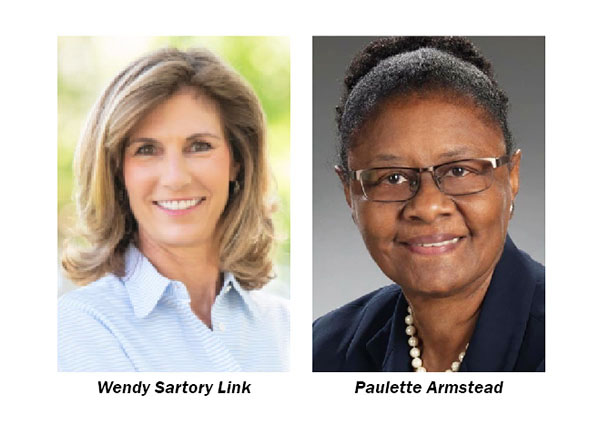 Palm Beach County Supervisor of Elections Wendy Sartory Link is being challenged by human rights attorney Paulette Armstead in the Tuesday, Aug. 18 primary election, with mail-in voting already underway and early voting starting Monday, Aug. 3.
While this race is technically a Democratic primary, since both Link and Armstead are registered Democrats, this race is a rare occurrence where no Republicans, independent candidates or even write-in candidates qualified to run, making it a universal primary election that will appear on all ballots.
Gov. Ron DeSantis removed former Supervisor of Elections Susan Bucher, a Democrat, from her post in January 2019, appointing Link in her place. At the time, Link said that she did not intend to seek election to a full term on the job.
However, Link has since changed her position on that, as well as her registration from Republican to Democratic. This will be the first time her name will appear on the ballot for election to the job she has held for that last 18 months.
According to Armstead's web site, she was born and raised in Florida and has lived in Palm Beach County for more than 30 years. She ran unsuccessfully in 2018 for state representative in Broward County's District 92 against incumbent State Rep. Patricia Hawkins Williams.
A lifelong Democrat, Armstead is a member of five local Democratic clubs and a member of the voter registration team with the Palm Beach County League of Women Voters.
Armstead has four college degrees, including a bachelor's degree in criminal justice, a master's degree in theology and a law degree. She has worked as a police officer as well as a deputy chief of police for the St. Petersburg Police Department, where she was a member of the management team involved with the day-to-day operations of more than 600 employees.
Over the past 30 years, Armstead has operated a private law practice specializing in the protection of senior citizens from abuse, neglect and exploitation. She is running for supervisor of elections because she wants to use her law enforcement experience, management and legal experience to protect voters against voter suppression and disenfranchisement.
For more info., visit www.armsteadforsupervisorofelections.com.
Link graduated from the University of North Carolina-Chapel Hill with a bachelor's degree in administration of justice and political science in 1986 and earned her law degree from the Duke University School of Law in 1989.
Before Link's appointment as supervisor of elections, she was the president of a business law firm focused on commercial real estate and general business transactions. She also focused on business consulting, with an emphasis on strategic initiatives, crisis management and leadership development.
Link has more than 25 years of legal experience in private practice. She was named in "The Best Lawyers in America" for real estate law since 2009 and named one of "The 50 Most Influential Women in Palm Beach and Broward Counties" by Fast Track magazine. Link is a member of the board of trustees for Palm Beach State College, the Florida Council of 100 executive committee, the Economic Forum of Palm Beach County, the International Women's Forum, Leadership Florida, Leadership Palm Beach County, one of three founders of Leadership West Palm Beach, the Place of Hope Advisory Council and the Weiss School.
Visit www.wendyforsoe.com for more information.