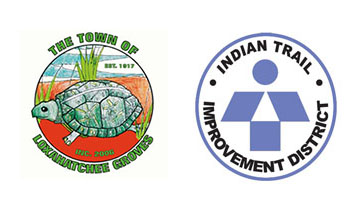 The Indian Trail Improvement District has announced plans to install a gate at the crossover from 140th Avenue North to 40th Street North into the Town of Loxahatchee Groves, shutting down a little-known access point widely used by local residents.
A letter from ITID Executive Director Burgess Hanson to Loxahatchee Groves Town Manager Jamie Titcomb gave notice to the town that ITID plans to install lockable steel gates at the intersection of 40th Street North and 140th Avenue North, as well as 43rd Road North and 140th Avenue North.
"The actual location of the gates will be determined by survey to ensure that each are within the legislative boundaries and easements of the district," Hanson wrote. "At the 40th Street North and 140th Avenue North gate, we will provide pass-through access for the use of pedestrians, bicyclists (not motorized ATVS, UTVs, golf carts, etc.) and equestrians. This will not be done at the 43rd Road North gate."
Hanson wrote that ITID plans to advertise the closures through signage and different media platforms.
"Part of this public relations campaign will include the placement of a message board along 140th Avenue North and one at 40th Street North to notify drivers of the impending closures," he explained.
The district will send notifications to two property owners who have unauthorized driveway connections directly to 140th Avenue North but will not send notices to homeowners in Loxahatchee Groves who may be impacted by the closures. ITID will also notify Palm Beach County, the Palm Beach County Sheriff's Office and Palm Beach County Fire-Rescue.
Each gate will have a Knox Box emergency key system for authorized use by public safety and work crews.
The letter requests that Loxahatchee Groves notify its residents and contractors, including its waste pickup contractor, and in particular the residents along 43rd Road North, who will need to coordinate with a private landowner who installed locked gates on 43rd Road North and 145th Avenue North for access by certain homeowners, delivery services, solid waste and other service providers.
The Loxahatchee Groves Town Council discussed the letter at its meeting Tuesday, Aug. 18.
"You're pretty well aware of the fact that Indian Trail is moving forward to take definitive steps to gate off the cut-through," Titcomb said. "We do have an issue up there with private properties and gates, but in our cursory study of the issue, every property that's listed up in that area has a deed-guaranteed way of access, so we're going to have to do some town coordination."
He added that ITID is also looking at 162nd Drive North, where there are several unauthorized "punch throughs" from the town to ITID properties to the west.
"If they pursue this to its fullest extent, it may have impacts on those residents as well," Titcomb said. "There has been a request from Sunsport Gardens to Indian Trail about opening a driveway out to 140th. I understand they are not in favor or amenable at this point in time, and I don't think our town would be interested in helping them pursue that."