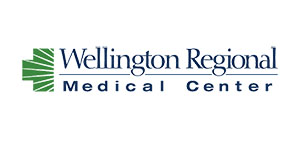 Wellington Regional Medical Center (WRMC) is one of six sites in the country currently participating in a phase 2/3 clinical trial of the IV medication Dociparastat Sodium (DSTAT) to determine if it can accelerate recovery and prevent the need for ventilators in patients severely affected by COVID-19.
The randomized, double blind, placebo-controlled trial will evaluate and determine the safety and efficacy of DSTAT in adults with confirmed COVID-19 who require hospitalization and are at high risk for respiratory failure, supplemental oxygen and possible ICU-level care.
Principal investigators for the study at WRMC include Dr. Adam Wellikoff, Dr. Neil Warshoff and sub investigator Dr. Mark Gigliobianco.
"The medication is a modification of an existing Heparin drug," Wellikoff explained. "We are looking into both the anti-inflammatory and anti-clotting effects of this medication. The hope is that this will prevent people from getting sick to the point of needing supplemental oxygen or going to the ICU on a ventilator."
This medical trial is designed to test the drug's effectiveness in controlling the immune response created by the virus.
"COVID-19 has two phases, a viral phase where the symptoms are fairly mild and an inflammatory phase where the immune system goes out of control, resulting in severe disease," Wellikoff added. "We are testing the medication's effectiveness in preventing the overactive immune system and examining its impact on a patient's need for ICU level care or a ventilator."
WRMC is the only site location in Florida with other study national site locations in Louisiana (three sites), Michigan and Virginia.
To read the clinical trial protocols, visit https://clinicaltrials.gov/ct2/show/NCT04389840.